Tribal heartland
Vibha Sharma captures the pristine glory of Bastar in words and images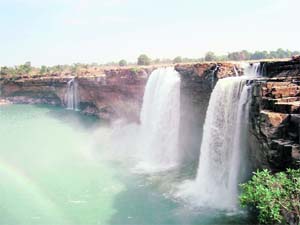 Surprisingly bewitching and beautiful — there can be no other way to describe Bastar, the tribal district of the young state of Chhattisgarh. Surprising — because Bastar, one of the last strongholds of the tribal way of life and culture in India, leaves the first-time visitor almost in awe because this is not what an unaware tourist to the hinterland expects to find. Bewitching — because Bastar leaves the visitor wanting for more, then making it difficult for him to escape the magic of its mystical vast tracts. And beautiful — because that's what Bastar is, full of mountains, valleys, streams, waterfalls and rambling natural parks, a painter's dream and a tourist's delight— perfect for camping trips, tribal, adventure and motoring tours.
Chitrakote waterfall, which is India's biggest such feature, is just a half-an-hour drive from Jagdalpur. Several other beautiful waterfalls like Tirathgarh and Gupteshwar Jharna dot Bastar
Road to paradise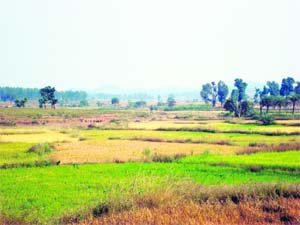 THE best way to reach Bastar is by road. The district headquarters of Jagdalpur are linked to the state capital Raipur through a well-laid road, making the 300-km drive a smooth and comfortable experience. It can also be approached from Bhadrachalam in south and Visakhapatnam in east. The road from Jagdalpur to Dantewada passes through some of the most beautiful sights in the world. Vast tracts of unexplored forests, a dazzling range of rambling, uninhabited natural parks make the drive a lifetime experience. Though parts of the road are under-construction and the traveller may have to make way through some rough patches while on way to Dantewada, the raw beauty of surroundings makes up for the discomfort. Jagdalpur has a couple of affordable and comfortable places to stay. It can be the base to visit different locations in the surrounding region.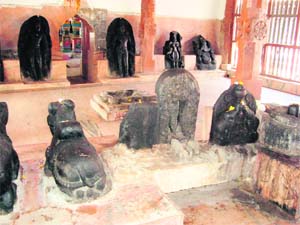 Raw appeal
TRIBAL groups comprise a large chunk of Bastar population. They include Gonds such as Marias, Murias, Abhujmarias, Dhurwa and Dorla, and non-Gond groups like Bhatra and Halba. Each group has its own cultural diversity, deities, dialects, customs and food habits. Danteshwari is the main deity of the Bastar royal house with an ancient temple located at Dantewada (accompanying picture). Each tribe also has its own gods, goddesses and spirits, largely inspired by Mother Nature, as also its festivals and rituals. Dussehra is Bastar's most important festival.
Colourful haat
A visit to Bastar will be incomplete without a visit to its famous haat bazaar. A haat is set up every day of the week, but at different locations. Every village holds its own haat, which is a place where items from vegetables to clothes to foodgrains and other knick-knacks, including jewellery, are sold. Most haats begin at noon and end before sundown. (The accompanying photographs are those of the haat at Dahikonda village.) Ashok, a jeweller who puts up a stall at these markets everyday, says the women of Bastar love to buy jewellery and spend whatever money they have on it. "It serves two purposes. Rats and pests can destroy money kept at home. Moreover, there is also a fear that men may squander it away on liquor. Jewellery is a safe way to keep the wealth, when they need the money they just sell it," he explains.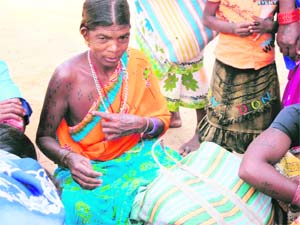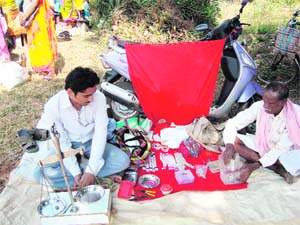 Naxal problem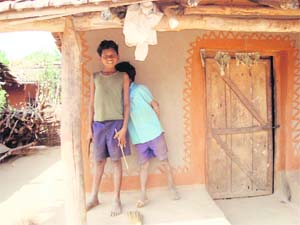 NO travelogue about Bastar can be written without acknowledging the presence of the Naxalite problem. Naxal strongholds are there in parts of Bastar. But the situation is different from what appears to someone sitting thousands of kilometers away. Naxal and Salwa Judum camps — the people's movement to fight Naxals — have become part of the tribal life, mostly in southern parts of the district. The closest Salwa Judum camp is located ahead of Jadgalpur en route Dantewada at Kasoli. The Naxals, based deep in the forests beyond Dantewada and Bijapur, keep making their presence felt as they did during the recent Assembly elections in the state. But it is important to reiterate that the situation is quite different from the general perception about the area. Largely areas are peaceful and as local people always tell visitors, Naxals have not tried to harm the tourists or journalists.