Le Clézio inspired by Mahabharata
Alfred De Tavares

FRENCH writer Jean-Marie Gustave Le Clezio, who has won the 2008 Nobel prize for literature, says the Mahabharata has been a sustaining factor in his life, especially as a storyteller.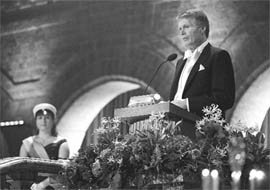 Nobel Laureate Jean-Marie Gustave Le Clezio speaks at the Nobel banquet in the Stockholm City Hall — Reuters photo

"The great Indian epic Mahabharata has been a sustaining factor in my life — not so much philosophically but in seeking stories," Le Clezio said in an interview.
"I consider myself basically a story-teller, not a moulder of thought," said the writer.
Le Clezio's links with India do not stop there. Having grown up in Mauritius, Le Cl`E9zio spoke of "the inescapable contact with India and Indians".
One cannot grow up in Mauritius and not imbibe Indian life. It is not just across the sea from you but, indeed, all around you: customs, culture, languages, politics. Many of my earliest, and continuing, friends have been Indians. They have lived for generations there but it is as if they had never left India. "In fact, a chief protagonist of one of Le Clezio's major works, The Treasure Seeker, is an Indian girl. The Book of Flights and Desert are some of his other works.
The Swedish Academy awarded the 2008 prize to Le Clezio, recognising him as the "author of new departures, poetic adventure and sensual ecstasy, explorer of a humanity beyond and below the reigning civilization". Asked if French writers Albert Camus and Jean-Paul Sartre with whom Le Clezio has been favourably compared had been his role models, he said: "Yes and no." "I have admired Sartre much but not been directly influenced by him....after all, I have accepted the Nobel Prize, haven't I?" he said with a disarming twinkle in his eyes.
The great Sartre was awarded the Nobel Prize in Literature in 1964 but disdainfully refused to accept it saying: "I do not wish to be hitherto known as that Sartre that received the Nobel Prize". — IANS
Nobel Prize dedicated to Qurratulain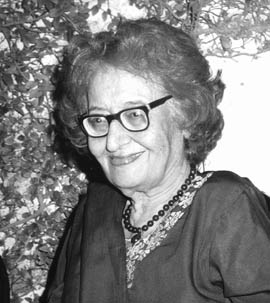 IN his eagerly anticipated lecture titled "Dans la foret des paradoxes" (In the forest of paradoxes) and webcast live from Oslo and Stockholm on December 7, the French novelist read out a roll call of great authors and poets to whom he dedicated his Nobel Prize for Literature
He dedicated the coveted honour to Urdu author Qurratulain Haider and Hindi-language Mauritian novelist Abhimanyu Unnuth among many others.
Recalling a story-teller named Elvira, whom he had met in a Central American forest 30 years ago, Le Clezio said: "It is to her, to Elvira, that I address this tribute — and to her that I dedicate the prize which the Swedish Academy is awarding me. To her and to all those writers with whom — or sometimes against whom — I have lived.
"To the Africans: Wole Soyinka, Chinua Achebe, Ahmadou Kourouma, Mongo Beti, to Alan Paton's 'Cry the Beloved Country', to Thomas Mofolo's 'Chaka'. To the great Mauritian author Malcolm de Chazal, who wrote, among other things, 'Judas'. To the Hindi-language Mauritian novelist Abhimanyu Unnuth, for 'Lal pasina' (Sweating Blood) to the Urdu novelist Qurratulain Haider for her epic novel 'Aag ka Darya' (River of Fire)." When his name was announced in October as this year's winner, Le Clezio had said in a media interview that there were others, who should have been given this prize, "such as Edouard Glissant from Martinique or Quratulain Haider from India".
He had told the interviewer: "She (Haider) is an Indian, who writes in Urdu, but has translated her book River of Fires into English herself. Read this book."
In his Nobel lecture, among many more names, he paid tributes to Henry Roth, "my neighbour on New York Street in Albuquerque, New Mexico, for 'Call it Sleep'", Jean-Paul Sartre, "for the tears contained in his play 'Morts sans sepulture'", J.D. Salinger, "because he succeeded in putting us in the shoes of a young fourteen-year-old boy named Holden Caulfield" — the protagonist of the cult classic The Catcher in the Rye. — IANS