Fashion week
This could well be called the fashion week for the tricity. For, in a span of a few days, it had two big names from the fashion fraternity flying in. Only, they were here not for the sake of couture but for their classmates. If last week saw style guru J.J. Valaya coming for the OYA reunion, this week it was the turn of Rina Dhaka to arrive for the bash of Carmel Convent's 1983 batch.

Ek rahin Vir
Don't we all love comedies? Slapstick, mimicry, mimes, stand-up or for that matter even the silly home videos that come every night at 11. Our daily dose of easing out the job, home, parental, spouse and even studies pressure; comedy is sure a great way to live life the king's way. And in times of global terror and recession what better than a good hearty laugh.
AT HIS COMIC BEST: Vir Saran Das Photo: Himanshu Mahajan



REPLAY 2008
Blog bulletin
If 2008, by any account, can be termed as progressive then it has to be in the virtual world. Well, literally, this year if one thing that we all were busy doing religiously was blogging, blogging and blogging. From anything to everything, the whining neighbour, the sexy colleague, India's economic future, Deepika Padukone and her love triangles or squares.


GEEK SPEAK
Speak out loud
This is a problem faced by all music lovers. To select the speakers that will do justice to the room you are going to place them into. At present, there are all types of speakers available to choose from. There are floor speakers, tower speakers, surround speakers, in-ceiling speakers, bookshelf speakers and outdoor speakers etc to choose from while deciding on the right pair.


SPADE WORK
Planted passion
It is Christmas spirit everywhere. The most important feature however remains the Christmas tree and its decoration. Not many people know that there are a few plants that are exclusively associated with the Christ and Christianity. In this region normally the tree used for Christmas decoration is Araucaria Cooki also called the Christmas tree. Star of Bethlehem
Lonesome at the lake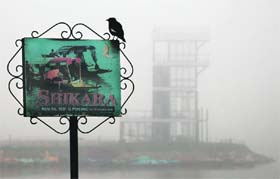 A lonely bird perched on a board at Sukhna lake as the city rose up to a foggy dawn on Monday Lifestyle photo: Himanshu Mahajan
Ipods in my Xmas stockings
This is the time of the year when you feel like painting the town red and the hallelujah spirit is at its peak. And guess who's the busiest person around. Our very own cute, potbellied, chubby man with a sparkling white beard and a bagful of goodies. And don't we all just love Santa Claus, well, for obvious reasons.
Kabhi Haan, Kabhi Naa
While many in Bollywood feel New Year celebrations should be scaled down in the wake of the terror attacks in Mumbai, a number of actors are readying to perform at bashes in other cities.

Bebo, Bebo all the way
Kareena Kapoor is on a high. She is getting one film offer every day and receives more than 300 SMSes daily. The actor says her career has started looking up ever since Saif Ali Khan entered her life. "Saif is extremely loving and supportive. In fact, the best phase of my career started when Saif came into my life. Now he's enjoying this phase in my life along with me. That makes this phase even more special," Kareena said.



Smooth sailing from South
Popular south Indian actor Asin, who starred in 17 films before making her debut in Hindi films with Ghajini, says that it has been a smooth transition for her in Bollywood. "I have been warmly welcomed in Mumbai and it has been a smooth transition for me from South Indian films to Hindi, the actor said. The Cochin born actor says she is amused when she is referred to as a debutante in the film.



Not an actor, nor a star
Her father a former world no. 1 in badminton, sister a Bollywood heartthrob, but 17-year-old Anisha Padukone does not have any inclination to take up the shuttle cork or dance around trees typical of a sequence in a Hindi film. Inspired by the Tiger Woods phenomenon, the youngest Padukone however aspires to be the world's numero uno ladies golfer and wants her family to be recognised through her as Anisha's family not Deepika or Prakash Padukone's.



Prakash and Anisha Padukone
Gifted anxiety
Frustration with hi-tech gifts peaks at 11.48am on Christmas Day, according to a study. The precise moment when people's frustration with high-tech gifts peaks is 11.48am on Christmas Day, says a new UK research.
Gifts 'n' things
Santa has arrived, bringing cheer and joy with him! This Christmas season think beyond the ordinary, Maspar a contemporary home furnishing and lifestyle Indian brand also known as designs for living ushers in happy tidings with several unique gifting options for Christmas and New Year.
Haute pick
This digital watch comes with the wireless Bluetooth technology and a cell phone with GSM 900, 1800, and 1900 MHz tri-band functionality. They've also managed to squeeze in a 1.3 megapixel camera, support for MP3 and MP4 files and a place for a microSD card up to 2GB in size.