Home-made Xmas father

These Santas may not come on a sleigh, all the way from the North Pole, but that does not make them any less lovable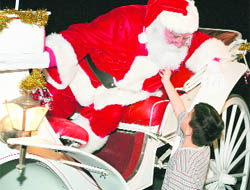 Wish he could be here everyday, distributing happiness, joy and assuring us that there is someone to make our wishes come true. But that's not how it is. Our loved Santa Claus makes a grand entry only on Christmas to make up for the whole year. So, ever wondered where does he go after Christmas? "Back to work," say our Santa Clauses for the day. Behind the red attire and the snowy beard is a person who just like the children wishes there was a real Santa. And as the sun goes down on the big day, they reveal their real self with a promise to become Santa Claus for children next year.

Shopping online to beat Church service
A leading retail trade body has predicted that Christmas this year will see more number of people shopping online than going to a church service. Online retail trade group IMRG says that about 5.24 million people will be logging on to shop for bargains over the Internet on Christmas Day.

Life behind bars

Renuka Puri's photographs capture the essence of life in Tihar jail
Her forms as well the shadows of iron bars, all come in black and white, but not so often one gets to see a single colour capturing many hues of life as in Renuka Puri's frames. An insider's take on life inside Tihar Jail, the photography exhibition 'In the shadows of Walls', at the Government Museum and Art Gallery-10 also come as an eye-opener for us, who have been fed on Bollywood's concept of a jail and the life of an inmate.

Photos: Parvesh Chauhan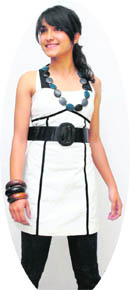 REPLAY 2008
Catwalk on campus
From fashion and festivals to fists, it was a year of the fast and the furious on the campus, write Manpriya Khurana and Neha Walia
It's the barometer of fashion, the Richter scale of trends and the ultimate measuring instrument of style. The classiest of Gucci or Chanel, Prada or Dior and Bvlgari or Burberry. Whatever! If a designer's creation does not make its way to the lecture corridors and canteen halls, somewhere something's amiss. In keeping the significance of the premises, we, at Lifestyle, review the 'volcano hot' trends of the year gone by and add yet another chapter to fashion archives.
Fest fixation
An average student on campus lives on three things- fashion, food and fests. They are like the only thing that adds the tadka to a normal campus bhaaji. Known for its masti culture, PU has half a dozen festivities going on throughout the year, with cultural as well as social activities highlighting our sunny side.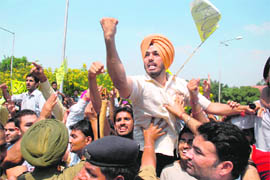 Battlefield campus
So it's time for a season finale on campus and before the curtains come down for this year, we need to announce the winner that made it to the limelight on campus. Was it fashion, trends, SUVs, books or campus eye candies? As action packed as it may sound, the trophy goes to…campus violence.
Yup…the campus was high on hot blood this year and almost became a haven for anti-social elements.


Reunited colours of a class
(Left) Host for the SJOBA cultural evening on Monday, prior to the winter ball, Vir Saran Das sure tickled the funny bone of the audience with his comic act.

(Right) Carmel Convent's Class of '83 marks its silver jubilee with a bash at Zinc-26.