Music was in the air
Gaurav & Saurav give an overview of some of the top musical events of the year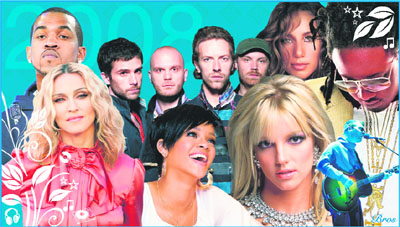 The year 2008 saw even more splash in the music world than ever before.
January
January 29: Face to Face announced that they will reunite for select shows in the US and internationally.
February
February 10: The 50th Grammy Awards took place at the Staples Center in Los Angeles, California, USA.
February 26: The Spice Girls do their last performace together of their tour The Return of the Spice Girls in Toronto.
February 26: Erykah Badu makes a comeback with New Amerykah Part One (4th World War).
March
March 20: The Eagles began a tour to promote their album, Long Road Out of Eden.
March 27: British singer Leona Lewis topped the U.S. Billboard Hot 100 with her debut single Bleeding Love, the first solo British female singer to do so since Kim Wilde in 1987.
April
April 2: Mariah Carey's new single, Touch My Body, from her album E=MC2 is officially confirmed as her 18th number one single in the United States making her the artist with the second most number one hit singles behind the Beatles.
April 5: Mayor Antonio Villaraigosa officially proclaimed April 15 as Mariah Carey Day in Los Angeles, California, USA.
April 19: With her single, I'm a Fire, Donna Summer became the first artist to have a song reach number one on the Billboard Hot Dance Club Play chart in every decade since the chart's inception in 1974.
April 27: Madonna releases her eleventh studio album Hard Candy which debuts at #1 atop the Billboard 200 making her the female artist with second most number one albums behind Barbara Streisand.
May
May 4:Indian tabla maestro Kishan Maharaj dies.
May 16: The Offspring began the first leg of their tour to promote their new album, Rise and Fall, Rage and Grace.
May 24: The 53rd Eurovision Song Contest final was held in Belgrade, Serbia. 43 countries competed in the event, and the contest was won by the Russian entry with the Ukrainians coming second and the Greeks third.
June
June 6 and 7: Foo Fighters played their biggest UK stadium shows at Wembley Stadium in London.
June 13: R&B superstar R. Kelly was acquitted of all charges in his child molestation trial.
June 17: George Michael began the American leg of his 25 Live tour in San Diego, USA, his first U.S. tour in 17 years.
June 29: Guitar Hero: Aerosmith, the first video game in the Guitar Hero series was released.
July
July 3-6: The O2 Wireless Festival took place in London.
July 10-13: The EXIT Festival 08 took place in Novi Sad, Serbia.
July 20: The Oxegen music festival took place in Kildare, Ireland. And the All Good Music Festival took place in Masontown, West Virginia, USA.
August
August 1-3: The Lollapalooza music festival took place in Chicago, USA.
August 12-18: Sziget Festival 2008 took place in Budapest, Hungary.
August 23: Madonna starts her Sticky & Sweet Tour which is set to become the highest grossing tour for both a female and solo artist.
September
September 2: New Kids On The Block release their album The Block, their first studio album in 15 years.
September 7: The 2008 MTV Video Music Awards event took place at Paramount Studios, Hollywood.
September 12: Metallica's Death Magnetic is released.
September 15: Queen + Paul Rodgers release their studio album The Cosmos Rocks, the first Queen album with a lead singer other than late Freddie Mercury.
September 20: Pink scored her first solo number:one hit in her native USA, with the song So What.
September 25: Former Beatle Paul McCartney made a single concert in Israel at Tel Aviv park for the first time since The Beatles were banned from Israel in 1965.
October
October 16: Britney Spears sets a new record for the largest jump to number one on the Billboard Hot 100, rising from number 96 to number one in just one week, with her single Womanizer.
October 18: Rihanna scores her fifth number one song on the Billboard Hot 100 (as a featured artist on T.I.'s Live Your Life, which followed SOS, Umbrella, Take a Bow, and Disturbia), becoming the leading solo female artist with the most number ones to have charted in this decade.
November
November 2: AC/DC become the first band to have their own version of the video game Rock Band, following the release of AC/DC Live: Rock Band Track Pack.
November 18: Nickelback release the much-anticipanted Dark Horse to follow up 2005s seven times' platinum album, All the Right Reasons.
November 23: Guns N' Roses release their first album containing original material in 17 years, Chinese Democracy.
December
Beyoncé made Billboard history along with rapper T.I. by both having two singles simultaneously in the top four spots on the Billboard Hot 100 chart.
December 13: Joel Feldman and Shayna Cohen rewrite the American classic Baby, It's Cold Outside, making it more suitable for the 21st century.
December 20: Britney Spears scores her first top ten debut on the Billboard Hot 100 with Circus selling 212,000 copies only with download sales.
Chris Brown named 2008 Artiste of the Year by Billboard Magazine.