Traverse the highs and lows of 2008 with Rajinder Puri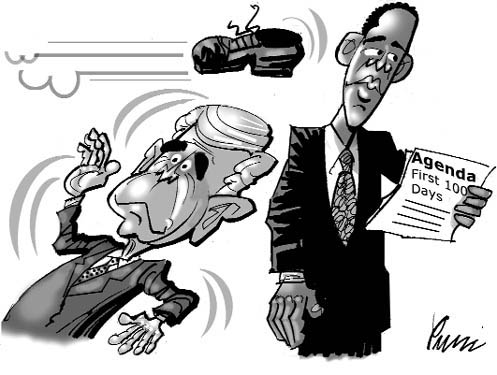 Art mart gets bigger
The Rs-15 billion domestic art market is pegged to grow around 35 per cent annually, writes Soudhriti Bhabani
THE Indian art scenario this year has been through both good and bad. Great demand, great works, but on the other side, darker forces trying to mar artistic creativity.
Saas bahu soaps lose TRP race
Amar Nath Wadehra and Randeep Wadehra look at the trends that dominated
the small screen in 2008
FROM just one channel in 1991 to over 300 channels (with more than a hundred 24X7 news channels) today the television in India has come a long way from being an instrument of the state for forging a uniform thought process throughout the country to be a multi-dimensional platform for eclectic infotainment.
Return of the plot
THE year 2008 also saw the TV entertainment scenario getting over its self-imposed inertness. Advent of the Colors television channel has heralded the dawn of serials with original plots.
Small budget big hits
As recession sweeps across the globe, several low-budget, non-star productions are being green-lighted, most of them with first-time directors, writes Derek Bose
AS the year draws to a close, some clarity is beginning to emerge on what the future holds for Bollywood. For one, directors, rather than stars, would determine the fate of films at the box-office. For another, the role of heroines is getting minimised.
A million dreams
Even before its release in India, Danny Boyleís Slumdog Millionaire, the story of Jamal, an underdog from the slums of Mumbai who becomes a millionaire, has won accolades at many a film festival, writes Ranjita Biswas
Living in a slum and earning millions? Whom are you kidding? Well, if itís a plucky kid like orphan Jamal who grows up in abject poverty in the slums, but still makes a million, you have to believe it. Because thatís how typical rags to riches stories are churned out by Bollywood with the mandatory happy ending with the ladylove in tow.