286 killed
Israel clobbers Gaza for second day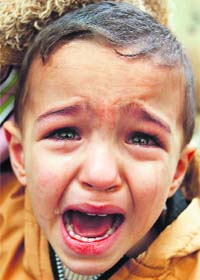 A relative of Palestinian police chief Tawfiq Jaber, who was killed in an Israel air strike, cries during his funeral in Gaza Strip on Sunday. — Reuters
Gaza, December 28
Israel destroyed Hamas' main Gaza security complex in an air strike today and prepared for a possible invasion of the territory after killing more than 286 Palestinians in the first 24 hours of a powerful offensive.
Israeli leaders said the campaign was a response to almost daily cross-border rocket and mortar fire that intensified after Hamas, an Islamist group in charge of the coastal enclave Israel quit in 2005, ended a six-month ceasefire a week ago.
Despite the air attacks, militants fired some 80 rockets into Israel, emergency services said. In one of the deepest attacks, two rockets struck near Ashdod, a main port 30 km from Gaza, causing no casualties, police said.
Israeli tanks deployed on the edge of the Gaza Strip are poised to enter the impoverished enclave where 1.5 million Palestinians live.
Prime Minister Ehud Olmert's cabinet approved a call-up of 6,500 reservists, a government official said. "Israel will continue (the campaign) until we have a new security environment in the south, when the population there will no longer live in terror and in fear of constant rocket barrages," said Mark Regev, a spokesman for Olmert.
Keeping pressure on Hamas after one of the bloodiest days for Palestinians in 60 years of conflict, Israeli aircraft flattened the group's main security compound in Gaza, killing at least four security men, a health official said.
More than 700 Palestinians were wounded. "Palestine has never seen an uglier massacre," said Hamas leader Ismail Haniyeh. His Islamist group vowed revenge, including suicide bombings in Israel's "cafes and streets".
One Israeli was killed on Saturday by a rocket fired from the Gaza Strip. Israeli military affairs commentators said the Israeli offensive did not appear to be aimed at retaking the Gaza Strip or destroying the territory's Hamas government — ambitious goals that could prove difficult and politically risky to achieve ahead of Israel's February 10 Parliamentary election.
Instead, they said, Israel — after an air bombardment on Saturday — wanted to strengthen its deterrence power and force Hamas into a new truce that would lead to a long-term halt to cross-border rocket salvoes.
In the Gaza Strip, where normally bustling streets were largely traffic-free, Palestinians stood outside their homes to chat with neighbours about the dangers ahead as the roar of Israeli aircraft and explosions echoed in the distance.
Palestinian President Mahmoud Abbas blamed Hamas, which seized the Gaza Strip from his Fatah group in 2007, for triggering Israel's raids by not extending the ceasefire that Egypt brokered in June.
"We talked to them (Hamas) and we told them 'please, we ask you, do not end the truce. Let the truce continue and not stop' so that we could have avoided what happened," he said in Cairo.
In a show of national unity, Israel's leading political parties suspended electioneering for the February 10 ballot, which opinion polls forecast the right-wing Likud of former Prime Minister Benjamin Netanyahu would win. — Reuters