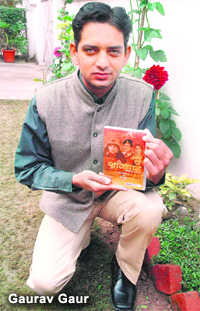 Let the reason be love…
The terror attacks are still too fresh in our minds to go partying till the wee hours. But there are still a few worthy ways to usher the New Year. Read on
The human chain in protest against Mumbai blasts is finding acceptance all over the world and everyone who has witnessed the grotesque scenes on television or simply heard it from someone, know that the people have declared a battle against terrorism. It is sad that it has come at a time when we are about to usher 2009. With most people calling off New Year celebrations there isn't much one can look forward to. All the same, there are groups, and non-government organisations that have decided to keep the spirit alive in some way or the other. We check out on some of these organisations and people associated with these to know how they would like to move from the old to the new year.
Give peace a chance
We witnessed a subdued Christmas, and now we head for the day that inevitably arrives every year, whether we want it or not. The New Year! And, there isn't much expection from the New Year this time. The murderers died in the battle but left bruises that refuses to heal. For once, the citizens don't want to cover them. They want to talk about it, read and circulate their feelings. The messages making rounds this year are essentially based on Mumbai blasts urging people to not to forget the martyrs. And this is what they say.
Some celeb made it to Santa's nice list and some to the naughty list. Read on to know more...
Hollywood stars have been in news for a variety of reasons this year-some made headlines for all the wrong reasons and others took reins of their life in hands and struck the right chord with audience.


| | | |
| --- | --- | --- |
| Kate Winslet | Tom Cruise | Leonardo DiCaprio |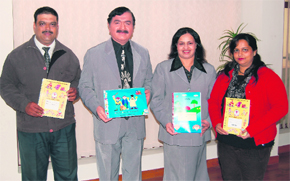 The theme theory
Mount Carmel's new thematic curriculum kit has all that a child wants and parents desire
A for apple…B for bat…C for…. Now, before getting any wrong ideas, this was just to take you back to your school days. Those blissful, euphoric and heavenly years. Only two regrets - homework and heavy bags. For a while, just think if they were simply not there.
TEAM SPIRIT: The team behind the concept of thematic curriculum
Saga of sacrifice
To evoke the history of struggle for independence is one thing, but to capture it with all its vibrancy and comminuate silently in the present is quiet another," opines eminent playwright thespian, Atamjit. Credited with scripting and direction of 30 short and full length Punjabi plays in India and Canada, Atamjit was here to do a dramatic rendering of his latest Punjabi play Mungu Comrade at the Punjab Kala Bhavan-16 on the invitation of the Chandigarh Sangeet Natak Akademi.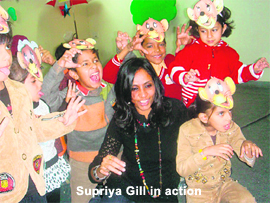 Full of drama
The English communication workshop at British Library on Saturday left the kids hooked, asking for more
Who wants to be an elephant? Who wants to be mice? And, who wants to be a butler?" says the voice. Meanwhile, a shy little girl gets up, raises her hand. She wants the butler's part. Sshhh…It's a workshop on English communication skills and the kids are engrossed to the core. The teachers are involved and the visitors are kept at bay.
BODY wise
Busted!
Say goodbye to the myths of 2008 and rediscover your health and attitude
Every season brings a new weight-loss trend and we're bombarded daily with diet and exercise tips, from folk wisdom to the latest medical research, which often seem contradictory or incomplete. While some throw up their hands in despair, others decide they might as well sit on the couch and eat whatever they like and keep getting fatter. But the good news is that we are not powerless.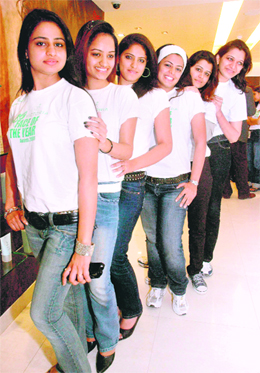 Who's that girl: Sunday saw the participants of Victoria Face of the Year-2008 sashay for two titles — Ms Beautiful Hair and Ms Beautiful Skin at Headmasters. Pramod Dewan, managing director, Headmasters, was the judge.

Raise a toast
Here's some good news for alcohol lovers - a pint of beer sans alcohol can help cut the risk of heart disease. Scientists from University of Valencia in Spain found that alcohol-free beer can help reduce high levels of cholesterol, and protect the heart. The study has listed many such advantages of sipping beer judiciously. The tipple not only helps reduce potentially hazardous build up of fat in the arteries, but also increases the levels of antioxidants in drinkers' blood.
Back to life
legend John Lennon has been brought back to life 28 years after his death for a charity television commercial. The Imagine singer, who was shot and killed at his apartment on December 8, 1980, was revived with the help of digital technology.
Waiting for to(knight)
'Harry Potter' star Emma Watson has revealed that she's "waiting for her knight in shining armour." The 18-year-old, who was cast as Hermione Granger at the age of nine, rubbished her links with several suitors, saying she was still single.
'Will you marry me?'
Gisele Bundchen had reportedly been proposed to by her sports star beau Tom Brady on a private jet on Christmas Eve. The flight, which takes approximately 10 minutes to reach from Boston from New Jersey, had reportedly been planned for the in-air proposal, reports Fox News.
Posthumous prince
The death of actor Heath Ledger has topped a poll of the most important showbiz events of 2008.The 29-year-old actor, who died early this year, will be best remembered for his role of the 'Joker' in the last Batman flick The Dark Knight, a website reported.
Beating Brad
Jennifer Aniston's Marley & Me has grossed $14.8 million, beating the $11.8 million figure raked in by Brad Pitt's The Curious Case of Benjamin Button on Christmas Day. Both movies managed to rock the box office with Aniston's flick earning the highest one-day total ever for a film opening on Christmas while Pitt's movie set the record for the second-highest opening of all-time.