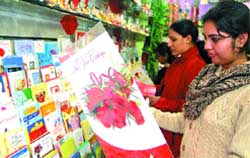 With New Year festivities approaching, young girls take a look at greeting cards in Amritsar. Photo: Vishal Kumar
Association condemns attack on engineers
Tarn Taran, December 30
The Punjab State Electricity Board (PSEB)Engineers Association at its meeting held here today condemned the increasing incidents of attack on engineers while on duty.
Shyam Sharma - A man with a mission
Convinces the people to adopt the improved furnace that saves 40 per cent firewood in cremating the dead
Amritsar, December 30
Shyam Sharma, a retired mechanical engineer from the PWD, has taken upon himself the task to minimise the use of firewood during cremation of bodies.
Campus Buzz
Scientist award for research fellow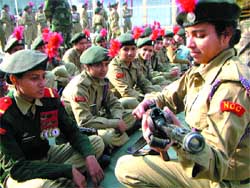 Amritsar, December 30
Tilak Raj, a senior research fellow from the department of pharmaceutical sciences of Guru Nanak Dev University, has been awarded the "Young Scientist award" for the year 2008 for his work "Synthesis and anti-cancer evaluation of some chromone- based compounds".



Girl cadets get rifle training at the annual NCC camp at Government Senior Secondary School in Amritsar. Photo: Vishal Kumar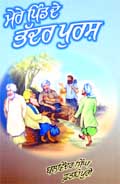 From prose to humour writings
Amritsar, December 30
Balwinder Singh Fatehpuri, a prose writer of social essays, has ventured into writing pen portraits in his two back-to-back release of "Mere Pind Da Shuglastan" and "Mere Pind Da Bhadar Pursh". Both the books reflect his minute observation of some of the "interesting" persons in thes village where the writer had grown up and resided for a long. The books make humorous and light reading of flaws and follies of conduct of various characters therein.
Portable trap for mosquitoes
Amritsar, December 30
Inderjit Singh Dhanju, agriculture officer, Department of Agriculture, Punjab, claimed that he has developed a portable mosquito trap.
2 arrested with 110 gm smack
Amritsar, December 30
The police arrested Ajit Kumar of Fateh Singh Colony, Bhagtawala locality, here and seized 100 gm of smack from his possession. SSP Kunwar Vijay Partap Singh in a press release issued here today said that the accused was arrested after a tip-off. The Kotwali police party headed by ASI Kulwant Rai arrested him from Chowk Butt Malkan and seized the contraband.