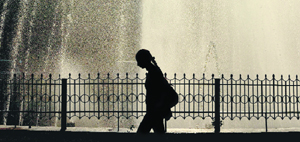 A girl passes by a fountain on the Jammu University campus. Tribune photo: Anand Sharma
SMS resumes: Youngsters cheer up
Jammu, December 30
The life, which had virtually come to a halt with SMS service being suspended for nearly five months, has regained its tempo after the facility has been resumed exactly after the state Assembly elections.
State to play tourism card on R-Day parade
Jammu, December 30
Known for snow-clad and lofty mountains, large lakes and vast meadows, Jammu and Kashmir will showcase its high tourism potential at the Republic Day parade, 2009, in New Delhi.

Drug addiction on rise among youth
Jammu, December 30
Even as the police in consonance with the drug and food control department has tightened noose around some disgruntled chemists across Jammu, drug-peddlers continue to sell psychotropic drugs, including anti-depressants, sedatives, cough syrups and painkiller injectable, to the youth, including adolescents.
Kishtwar residentsí health at stake
Road sides turn garbage dumps
Kishtwar, December 30
The valley of Kishtwar is facing ecological degradation as controlling and properly


maintaining garbage is a
huge problem in this mountainous belt. As authorities have yet not approved any site to dispose off the waste, garbage is usually being dumped on the roadside posing several health hazards to the inhabitants of the area.
A garbage dump on the road connecting Kishtwar with the rest of the state. A Tribune photograph


Letter
No check on garbage burning