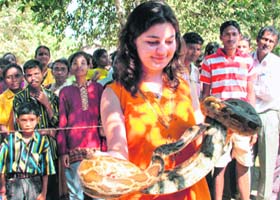 CHARMING ACT: A Russian tourist catches a baby python with the help of snake charmers during a workshop on 'Snakes: Myths and Realities' at Nandankanan Zoological Park in Bhubaneswar on Wednesday. — PTI
No threat to INS Viraat, assures Chidambaram
New Delhi, December 31
India today dismissed reports of an aerial terror threat to INS Viraat, its solitary aircraft carrier currently docked in Kochi for a midlife refit. "As we speak today, there is no such threat to INS Viraat," P Chidambaram said at his maiden press conference as Home Minister while replying to queries on a reported intelligence input from the United States.
Decision on Afzal Guru soon: PC
New Delhi, December 31
Facing flak from the opposition for delaying capital punishment of Parliament attack convict Mohammad Afzal Guru, the government today said it would take a decision in this regard soon.
B'lore blast accused in ATS net
Pune, December 31
In a prize catch, the Maharashtra Anti-Terrorism Squad (ATS) today arrested Hussein Shabbir Nairuddin Gangajali, who had allegedly supplied counterfeit currency notes to terrorists involved in the Bangalore bomb blast, which killed two people in July.
Flashback 2008
Economic trinity was at the helm
New Delhi, December 31
Who is the year's main newsmaker? Currently the focus has shifted to the economic trinity of the finance ministry, the RBI and the Planning Commission. And the man who has been at the helm of all three by all counts - Manmohan Singh is the year's chief newsmaker.
Third team of scientists flagged off for Antartica expedition
Vasco-da-Gama, December 31
The last and third 50-member team of scientists in the 28th Indian Scientific Expedition to Antarctica was flagged here today. The successive Antarctica expeditions are in continuation of India's efforts at studying various aspects of climate variability, besides unlocking the secrets of life in the sub-zero temperatures.
Troops at icy heights to get chocolates, dry fruits
New Delhi, December 31
Troops stationed at icy heights at the Indo-China border can look forward to milk chocolates and dry fruits in the new year. Troops, who don combat fatigues at 12,000 ft and above, will now be supplied with milk food, coffee, biscuits, noodles, dry fruits, chocolate eclairs, chicken pickle, desi ghee, vermicelli and fruit juice.
Bihar to rein in corruption in public life
Patna, December 31
After tightening its noose around criminals and getting 23,000 of them convicted through "speedy trial" of major criminal cases by "special courts" in the past three years, the NDA government in Bihar has now decided to rein in corruption in public life in the NewYear (2009).
Acid attack victim succumbs
Hyderabad, December 31
A young engineering girl student, who suffered an acid attack by a jilted lover and his two accomplices, died here today after battling for life for three weeks. The tragic case of 21-year-old Swapnika, whose tormentors were subsequently eliminated in a police encounter, has evoked a wide sense of outrage in Andhra Pradesh.