M A I N N E W S
01.01

Serial blasts kill five in Assam
Outrage in Guwahati before PC visit; is it Ulfa?
Bijay Sankar Bora
Tribune News Service


PM talks tough
New Delhi: Condemning the terrorist bomb blasts in Guwahati, Prime Minister Manmohan Singh said his government would "root out terrorism taking the recent anti-terror measures to their logical conclusion." — PTI
Guwahati, January 1
At least five persons were killed and over 50 injured when three blasts detonated by militants belonging to the banned United Liberation Front of Asom (ULFA) rocked the city on the first day of the year.
The blasts occurred a day ahead of Prime Minister Manmohan Singh's scheduled arrival in the city to inaugurate the Indian Science Congress at Shillong on January 3 morning and just few hours before arrival of Union Home Minister P Chidambaram in the city today to review the security scenario in the state that was rattled by devastating serial explosions on October 30 last year.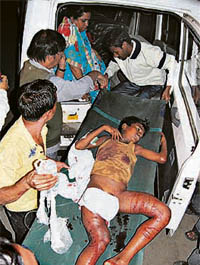 A blast victim is taken to a hospital in Guwahati on Thursday. — AFP
The police said suspected ULFA militants detonated explosions at Birubari, Bhutnath and Bhangagarh areas in the city at 3.15 pm, around 5.40 and around 6. Assam DGP GM Srivastava told the media that blasts were handiwork of the banned ULFA.
He said the police had information of about presence of a few militants of the ULFA's 709 battalion to strike terror. He said the ULFA might have tried to make its presence felt on the eve of VVIPs' visit to the city.
"Because the police were on high alert, the ultras couldn't plant the bombs at Birubari and Bhangagarh properly," he said. The blast at Bhutnath vegetable market caused maximum damage to lives and property. The Birubari bomb was planted in a Guwahati Municipal Corporation (GMC) dustbin while two other bombs were planted in market places at Bhutnath and Bhangagarh areas. Three persons were killed due to the explosion at Bhutnath market where the bomb was planted on a bicycle. The blast at Bhangagarh where the bomb was planted near a kiosk claimed two lives.
Those killed in the blast at Bhangagarh were identified as Amal Das and Kahil Seikh. The three persons killed in the blast at Bhutnath market were identified as Arifa Begum, Jitu Salam and Mesar Ali. All of them died in Guwahati Medical College Hospital (GMCH) where 33 injured were under going treatment. Some of the injured were admitted to another government hospital in the city.
Those injured in Birubari blast were identified as Altaf Ali, Fatema Begum and Raul Ali. The explosion totally damaged the GMC dustbin but failed to cause more damage as there were few people around as most of the business establishments and offices in the area were closed because of the New Year day. DIG GP Singh said it was an improvised explosive device (IED) that rocked Birubari.