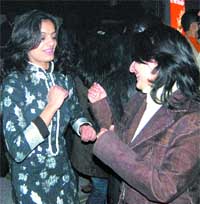 Girls dance during a party on the New Year eve in Amritsar on Wednesday. Photo: Vishal Kumar
Security agencies for innovation in '09
Amritsar, January 2
In spite of major crackdown on the drug cartel in the border region by different state and national narcotics agencies, the smugglers continue to succeed in breaching the security drag net searching and adopting new ways to smuggle huge quantities of drugs to different parts of the country and to the ultimate destinations abroad.
Patwari nabbed accepting bribe
Tarn Taran, January 2
A team of vigilance bureau, led by DSP Ashok Kumar, nabbed a patwari, Satpal, of Marhana circle while accepting a bribe of Rs 5,000 from a farmer, Niranjan Singh, of the same village here today.
Snatchers flourish on Race Course road
Amritsar, January 2
Some miscreants snatched a purse from Dr Sharda Adlakha, a resident of Race Course road.
Pannu releases calendar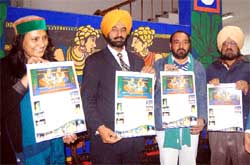 Amritsar, January 2
Deputy commissioner Kahan Singh Pannu released the New Year calendar at Virsa Vihar Sadan, Gandhi Ground here. Renowned artists along with DC took the opportunity to extend New Year wishes to the people.



Kahan Singh Pannu (centre) releases the New Year calendar at Virsa Vihar Sadan in Amritsar. Photo: Vishal Kumar
Proving mettle graphically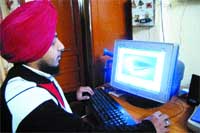 Amritsar, January 2
Mandeep Singh, alias Manu, a self-taught computer graphic artist, now wanted to go beyond the established format, which the most of graphic artists were using, by utilising basic colours and adding different elements to enrich his creations.


Manu shows a computer graphic at his residence in Amritsar. Photo: Vishal Kumar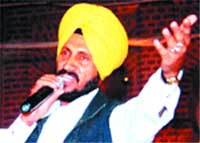 Sohal's musical journey continues
Amritsar, January 2 Harinder Singh Sohal has earned name by lending his sonorous voice to several Punjabi numbers in general and 'tappe' and 'boliyan' in particular while being music director of various albums, stage plays, tele-serials and a movie. Grandson of litterateur and freedom fighter Suba Singh, he had clear cut idea for carving a niche for himself in the world of music at a very young age.