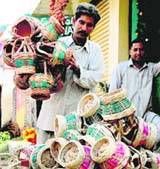 Kangri, pheran hot picks in cold weather
Jammu/Srinagar, January 2
With the onset of harsh winters and dense fog during morning and evening hours, the sale of kangri (a traditional firepot) and pheran (a long woollen robe) has picked up in the winter capital.Kashmiris have been using kangri and pheran to beat the cold for centuries. Both are a part of the Kashmiri culture.

A vendor sells kangris in a busy market in Jammu.
Photo: Inderjeet Singh
Battle for survival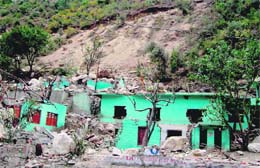 Relocation woes haunt Puldoda residents
More than 8,000 families have so far been displaced after commissioning of the Baglihar project
Doda, January 2
As uncertainty looms, fear is writ large on the face of Sunil Kumar, who is running a medical shop at Puldoda, the central point of Doda district, as he has to shift his business at an alternative place.

A view of the Puldoda town abandoned by its inhabitants after the filling of artifical lake of the Baglihar project. A Tribune photograph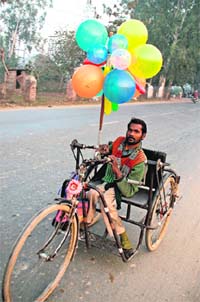 A differently abled person sells balloons in Jammu. Photo: Inderjeet Singh
Sunderbani, Nowshera residents seek trauma hospital
Sunderbani (Rajouri), January 2
Even as the killer highway in this part of the border district continues to snuff out precious lives month after month, the successive state governments have turned a blind eye towards the need of a trauma hospital having a blood bank here.A few days back, a person, identified as Satyam Gupta, suffered serious injuries in a road accident near here while he was on way to Poonch from Jammu.
Wetland conservation plan awaits approval
Jammu, January 2
The problems in Ghrana wetland, spread across 0.75 km of marshy land in Jammu, continue even as the wildlife department tried to involve the local people in its conservation attempt. With no other alternative, sewage still flows into the wetland leading to the proliferation of weeds and increased sedimentation.