Two arrested for murder
Kalka, January 5
In Suresh's murder case, in which he was found dead at Madhawala village on December 25, the police arrested two persons from the same village, today.
Marketing board's apathy hits repair of link roads
14 years on, no initiative despite CM's directives
Kalka, January 5
The link-roads' of various villages of Kalka sub-divisioin, which were laid in 1994-95 by the Haryana State Agriculture Marketing Board (HSAMB) are in a state of neglect. Vijay Bansal, former secretary of state Congress and former chairman market committee, Kalka, said marketing board has not taken any initiative to repair these roads in the past 14 years, subsequently the roads have been turned into deteriorating condition and have even lost their existence.
12-yr-old drowned in well
Ambala, January 5
A boy of Saraswati Nagar here fell in an abandoned well today noon when he was on way to his home. The body of the boy was removed after an hour with the help of fire brigade and residents of nearby area.
Directive
Ambala, January 5
In an effort to streamline the traffic problem and the frequent mishaps that occur due to dense fog in the region Deputy Commissioner and District Magistrate Sameer Pal Srow has declared the area from Kalka Chowk to Arya School Chowk, Polytechnic Chowk to Maharaja Aggarsain Chowk and Manav Chowk to Durga Nagar as a no parking zone till March.
One killed of excessive liquor intake
Rajpura, January 5
Sukhdev Singh, a local resident, was killed due to excessive consumption of liquor near Ambala barrier. The police has initiated an inquest under Section 174 of the CrPC.
Truck operators join nationwide strike
Ropar, January 5
The truck operators of the town and from Nangal truck unions joined the nationwide call on strike against fuel hike.
Win patients' trust: Expert to docs
Patiala, January 5
The local branch of the Indian Medical Association organised a continuing medical education (CME) programme on allegations of medical negligence at Government Medical College here today.
PU boxers stand out
Patiala, January 5
Punjabi University pugilists stood overall second in the All-India Inter-University Boxing Championship that was held at JNV University, Jamshedpur, from December 24 to 31. The team won one gold, one silver and three bronze medals.
Seminar on road safety
Bassi Pathana, January 5
During the ongoing Road Safety Week celebrations, the district traffic police in collaboration with the Bassi Pathana police organised a seminar at ITI, here today.
Rai claims to be Cong candidate
Fatehgarh Sahib, January 5
Close on the heels of former Deputy Speaker Vidhan Sabha Bir Devinder, retired IAS officer Dr Rai Singh today claimed to be the Congress candidate for the Lok Sabha elections from here.
Body found
Fatehgarh Sahib, January 5
Dead body of an unidentified man was found today at platform no. 2 of the Sirhind railway station.


'Criminal justice system in complete shambles'
HC suggests setting up of monitoring committee
Chandigarh, January 5
The Punjab and Haryana High Court believes "the criminal justice system is in complete shambles".
SC admits panchayat's SLP
Mohali, January 5
In connection with the alleged wrong mutations of around 500 acres of shamlat land at Mullapur Garibdass village, the Supreme Court has admitted an SLP of Mullanpur gram panchayat and granted an interim stay in favour of the petitioners.
No verdict on release of court property yet
Chandigarh, January 5
Even three months after Kashmir Singh and Gurmeet Singh, acquitted in the court firing case, moved a petition for the release of case property, order is yet to be pronounced. The case property includes weapons — two carbines and two magzines.


Thefts go unchecked in Industrial Area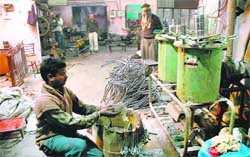 Chandigarh, January 5
Industrialists in the Phase II of the Industrial Area are harried in the wake of spate of theft in the area. Not only organised gangs of thieves, but also petty thieves and drug addicts are having a field day in the absence of police patrol.

The unit in Phase II, Industrial Area, Chandigarh, from where scrap was stolen on Sunday night. Tribune photo: Manoj Mahajan
Industrial tenants gun for conversion policy
Chandigarh, January 5
After the controversial mega projects, the ambitious conversion policy of the Chandigarh administration for industrial plots in Industrial Area has come under attack.
Missing security guard found murdered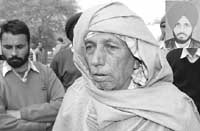 Panchkula, January 5
Harjinder Singh, security guard of the main post office, was found murdered at Sector 26, Panchkula, last night. The assailants stabbed him to death.



Ram Swaroop, father of the deceased, Harjinder Singh, at General Hospital, Panchkula; (Inset) a file photo of Harjinder Singh. Tribune Photo: Manoj Mahajan
Man beaten up by wife, sons
Chandigarh, January 5
The local police registered a case on the complaint of Birbal Singh of Mani Majra alleging that his wife Kadri, along with his two sons, had beaten him near his residence yesterday. He was injured and taken to the PHC, Mani Majra. A case has been registered at the Mani Majra police station.


PCA stadium vicinity in disarray
Despite spending lakhs of rupees in providing multiple-security cordon around the PCA stadium, the venue of a recent match between India and England, the area around the stadium did not get a facelift.
PU thrash Delhi varsity 14-0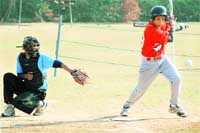 Chandigarh, January 5
It was a cakewalk for hosts Panjab University (PU), Chandigarh, who blanked Delhi University, Delhi, 14-0 home runs in a league match of the All-India Inter-University Baseball Championship for Men, here today.



A baseball match in progress in Chandigarh on Monday. Tribune photo: Himanshu Mahajan
Baseball players await certificates
Chandigarh, January 5
Lack of coordination between the Association of Indian Universities (AIU) and other universities has left the Panjab University men baseball team in lurch, as the players haven't got their certificates and gold medals even after a lapse of an year.

Belgium's Laurent emerges champion
Chandigarh, January 5
Belgium's Laurent Daxhelet and Russian Alexander Igoshin caused disappointment in the boys singles first-round matches in the ITF Junior Tennis Tournament (Grade 3) for under-18 being organised by the Chandigarh Lawn Tennis Association at the Tennis Stadium, here today.

A player returns the shot during the Tennis Tournament in Chandigarh on Monday. Tribune photo: Himanshu Mahajan
Sri Lanka, Singapore for cricket meet
Chandigarh, January 5
Srilanka and Singapore have confirmed their participation for the 1st V Hanumantha Rao All-India Under-19 National Twenty-20 Federation Cup League Cricket Tournament from January 12 to 15, which is being organised by the Cricket Federation of India and Cricket Federation of Hyderabad.
Ashbeer all set for Eastern India golf
Chandigarh, January 5
Ashbeer Saini (15) of Kapurthala is all set to give another challenge to India's top junior golfers when the Lalit Suri Eastern India Junior Golf Championship gets underway on the par-71 greens of the Tollygunge Golf Club in Kolkata on Tuesday.