Sudden asthma deaths are preventable
Dr S.K. Jindal
It is rather uncommon to encounter death in a patient of asthma, which is otherwise considered a benign problem. Deaths are expected in cases of chronic obstructive pulmonary disease (COPD), which also is misunderstood as "asthma". But COPD is a progressive and fatal disorder of the old who are mostly smokers. Asthma, on the other hand, is an allergic problem of the children and young adults.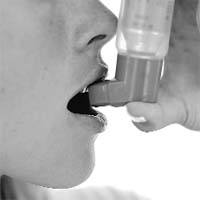 Theoretically, no individual should die of asthma provided an appropriate threatment plan is in place. In any case, an asthmatic patient should not die prematurely. It was, therefore, shocking to know of the three deaths from asthma of young individuals happening at different places within the last few months. All of them belonged to educated and well-to-do families and should not have died so young.
The clinical story of each of the three patients which I came to know later was different. But all of them had been apparently well, attending to their normal duties. The asthma attacks occurred at home or at work-place, progressed rapidly to the state of collapse before they could be shifted to hospital. Little could actually be done later after the irreversible damage to the brain had already occurred following the respiratory arrest.
Almost sudden respiratory arrest leading to severe suffocation and inability to breathe is typical of this kind of "fatal" or "near-fatal" asthma. Several different medical terms have been used to describe this condition. But "brittle" or "labile" asthma is perhaps the most appropriate term to understand the problem. Sudden and marked fluctuations in the severity of the symptoms are characteristically seen.
Truly speaking, the apparent suddenness is not all that sudden. Often, there is a prodrome of ill health and worsening of symptoms of a few days' duration preceding the sudden suffocating attack. The occurrence of this prodrome is usually ignored by the patient, and/or his family. It is somewhat sad to know that the patients described above had similar histories.
Unfortunately, asthma is considered as somewhat stigmatic by the lay man. Therefore, the patients and their parents have a general tendency to avoid the diagnosis and downplay the symptoms. They also tend to omit and ignore the treatment.
I know of several examples of young and newly married patients, especially girls who would hide their regular inhalalational treatment and skip their doses for fear of being exposed to their in-laws. That is almost suicidal. This amounts to a collective sin of society which must be remedied.
In the past, there had been an epidemic-like occurrence of asthma deaths in several Western countries, including in the United Kingdom, Switzerland and New Zealand. Under-use of the controller-inhalers and over-use of rapidly acting reliever drugs were the two most important medical causes of sudden asthma deaths. A controller drug essentially required for the treatment of asthma should be regularly continued while a reliever drug is meant for temporary use. One wishes that a similar scene does not develop in this country.
It was the knowledge and guided management of asthma which changed the scene in the West. We in India similarly need to educate our society about asthma and accept the problem as purely medical, without an associated stigma.
Asthma is a completely livable disease, affecting up to 2 to 5 per cent of general population. One can control one's asthma well with the regular use of controller-drugs and live a normal happy life. Any deterioration of symptoms must be immediately recognised and carefully managed. It is the reliance on controller inhalers which matters.
The dose of controller drugs can be immediately doubled the moment one notices deterioration. Over-use of rapid reliever inhalers must be avoided. In such a situation, the underlying disease status continues to worsen. Moreover, the overuse of such drugs results in toxic symptoms. Most asthma deterioration and deaths can be prevented. There is no reason to run away from the diagnosis or from acute exacerbations. A positive approach is the best method of management. One should also remember the adage, "A stitch in time, saves nine".
The writer is Professor & Head, Department of Pulmonary Medicine, PGI, Chandigarh.