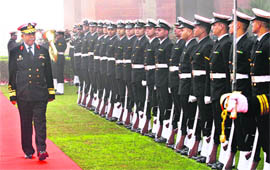 Commander of the United Arab Emirates Navy, Rear Admiral Ahmed Mohammed al-Sabab al-Tenaji, inspects a guard of honour during his ceremonial reception amid dense fog in New Delhi on Tuesday. Ahmed is on a four-day official visit to India. — Reuters
Pune doc held for links with terror group
Mumbai, January 6
A Pune-based doctor has been arrested for his alleged association with terror group Indian Mujahideen (IM) and aiding them by obtaining two apartments for the outfit, a senior police official said today.
B'lore cos seek better security
Bangalore, January 6
Long queue of cars on the road going by the Windsor Manor Hotel in Bangalore, a well-known landmark of the city, is a telltale mark of the fear psychosis that has gripped the Karnataka capital.
PM's global advisory council constituted
New Delhi, January 6
The government has constituted the Prime Minister's global advisory council in pursuance of the announcement made by Manmohan Singh on the occasion of the Parvasi Bharatiya Divas in January last year.
NIA open to fine-tuning: Chidambaram
New Delhi, January 6
Hemmed in by states wanting some kind of role to play in the National Investigative Agency (NIA), or challenging its very establishment, Home Minister P. Chidambaram today said that he would be writing to the states to remove all doubts and convey its true sense and context.
All intelligence produced is actionable: PM
New Delhi, January 6
Snubbing officials, who have been claiming that intelligence was "not actionable", Prime Minister Manmohan Singh today said, "All intelligence produced is actionable, though it may not always be specific". Complaints are often heard that the intelligence provided by the agencies is not actionable, the Prime Minister said it depended on the capability and ingenuity of those who assessed the information to further develop and converted the fragmentary pieces of intelligence into a complete whole and for those who had to act on it to possibly pursue each and every lead.
Six held for Guwahati blasts
Guwahati, January 6
Continuing their crack down on those behind the New Year's day serial blasts here that claimed six lives, the police has so far arrested six persons, including ULFA men.
Oppn seeks deadline to seal Indo-Bangla border
Guwahati, January 6
The opposition in the Congress-ruled Assam today demanded a deadline to seal the Indo-Bangladesh border in the state to prevent cross-border movement of anti-social elements that are out to destabilise the country.
Kargil scam: SC seeks report from CBI
New Delhi, January 6
The Supreme Court today directed the CBI to submit its status report within four weeks in connection with the alleged bungling in the purchase of over Rs 2,000 crore arms and other necessary equipment for the Army during the Kargil war.
Shekhawat's 'reverse gear' leaves BJP red-faced
New Delhi, January 6
The BJP is visibly embarrassed by the unexpected desire of former Vice-President Bhairon Singh Shekhawat to jump into the electoral fray once again in the forthcoming general elections and possibly contest from the Jaipur Lok Sabha seat.
Chavan woos Rane with Cabinet berth
Mumbai, January 6
Deft moves by Maharashtra's new Chief Minister Ashok Chavan brought about a virtual last minute rapproachment with Shiv Sainik-turned-Congressman Narayan Rane who was all set to announce his breaking away from the party today.
Student gang-raped in Noida, 5 arrested
Noida, January 6
An MBA student of Noida's prestigious institution and resident of Delhi was gang-raped in Sector 71 here on Monday. Five persons have been arrested in this connection.
XEN's Killing
BSP leader surrenders
Lucknow, January 6
Former Aurraiya BSP district president Yogendra Dohrey alias Bhatia, an accused in the murder of PWD engineer Manoj Kumar Gupta today surrendered in a district court in Aurraiya.
Handcuffing of Editor
Editors Guild expresses shock
Chandigarh, January 6
The Editors Guild of India has expressed shock over the manner in which the Editor-in-Chief of the Karavali Ale Group, B V Seetaram, was handcuffed and paraded by the Karnataka police when he was being produced before a court in Udupi in connection with a defamation case.
Mulayam's Assets
SC grills CBI for U-turn
New Delhi, January 6
The CBI today had a taste of its own drill, with the Supreme Court grilling it for its U-turn in the disproportionate assets case against former Uttar Pradesh Chief Minister Mulayam Singh Yadav and his family.
Teachers burn textbooks to fend off cold
Gaya, January 6
To escape the biting cold, teachers of a government school at Paraiya block in Bihar's Gaya district set ablaze two bags of textbooks meant for free distribution among students of flood ravaged Kosi region, official sources said.