TREND MILL
Happy and new in here...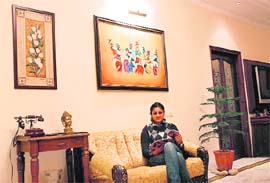 A new year, renewed resolutions, high hopes and an old & messy home? No way. Saurabh Malik lists some simple ways to spiff up your home without spending too much time or money
YOU have travelled into the New Year, leaving behind the old. But still, you are far away from your dream house. Of course, you have the inclination to refurbish the house in entirety, but time factor has simply added on to the distance between your desire and the destination.
Rajasthan realty interrupted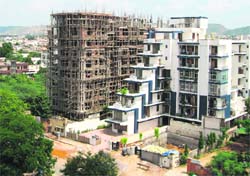 Battling Land Use Act 'misuse', govt freeze on new projects compounds developers' woes, Jan 16 review meeting raises hopes
RECESSION has hit realty the world over and Rajasthan is no exception, but the bigger villain in the state seems to be Section 90-B of the Land Revenue Act. All new realty projects have been on hold for the last three months after allegations of widespread corruption surfaced due to "misuse" of the Land Use Act.
GROUND REALTY


Touch wood!
The right kind of polish will add to the beauty of your home, enhance the colour of the wood & even protect it. Glide through the process with JAGVIR GOYAL THE last six columns tried to cover every aspect of painting and finishing work. This is the last on painting and covers polishing of woodwork with the hope that all these tips will help enhance the beauty and life of expensive polish work in your house. The same can be applied to your furniture also whenever you get it polished.
Tax tips
I-T rebate on house loan


Q. I was allotted a house in a Greater Noida residential colony by the Greater Noida Industrial Development Authority (GNIDA) in November 2007. The full payment was to be made within three months from the issue of the allotment letter. I paid the authority by taking a loan from LIC. Now I am paying back the house loan through an EMI of about Rs 27,100. The authority will give possession of the completed house to me within three years of the date of the issue of the allotment letter. Please advise whether I am eligible for income tax rebate for the interest and the principle components of the EMIs I paid during this financial year.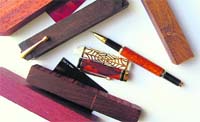 Child's play
TO decorate a child's room, use wall stencils. Paint the walls as usual, preferably in bright colours, and get final finish. When the final coat is a completely dry, paste stencils on the wall with masking tape. Get a sponge, dip it in the paint and apply it on the stencil.