This Above all
A silly book on sex
KHUSHWANT SINGH

I received the most expensive and the most useless book I know of as a New Year's gift. Price—Rs 12,500; name of the book—Kama Sutra by Vatsyayana; publisher and donor—Pramod Kapoor of Roli Books. Besides being an expensive old hack, it is also of unmanageable size, the largest coffee-tabler, enclosed in a plywood box. Will it find any buyers? You bet it will. Everything Pramod Kapoor publishes, he does so with an uncanny sixth sense of profitability. I have never known him to lose out on any of his ventures.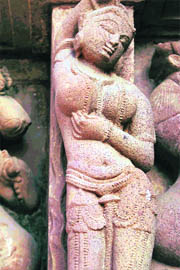 Kama Sutra has the most explicit paintings of couples
As Punjabis say, he can milk even an ox (Sandha chonna). And this one has preface by the eminent psycho-analyst Sudhir Kakkar to lend it academic respectability. Kama Sutra is, as I have often repeated, the silliest book on sex that I have ever read. Vatsyayana divides men and women into three animal categories, depending on the size of their genitals, which, in turn, determines their appetite for sex. He goes to list kinds of nail-bites, scratches and noises women from different parts of the country make when reaching orgasmic ecstasy.
The scores of postures a couple can take during intercourse would baffle a contortionist, and it includes one in a bathing pool with the caution that the man should take care that he does not put the woman's head under water. Or he would be copulating with a corpse. How silly can one be? The one thing that the book exposes are the double standards of fundamentalists like the Shiv Sainiks and Bajrangdalis, who vandalise paintings of MF Husain because they depict goddesses in the nude and wreck shops which sell Saint Valentine Day cards declaring love, but have nothing to say about Kama Sutra with the most explicit paintings of couples going sexually for each other because they regard it as semi-sacred—it is a Sutra.
Suchita Malik
Some time ago Suchita Malik came to see me to seek my advice on writing a book. I recall advising her to try her hand writing a novel. She was teaching English in some college. So language would not pose a great problem. "What should the novel be about?" she asked me. I replied: "No matter what your topic, most writers' first novels tend to be autobiographical, camouflaged as fiction". So it turned out to be. Her Indian Memsahib: The Untold Story of a Bureaucrat's Wife (Rupa) is her life story—her giving up a career in journalism to take up a teaching job in the newly set up Department of Journalism in Maharishi Dayanand University at Rohtak.
There she befriends a fellow lecturer, a couple of years her senior. They fall in love. She is an Arya Samaji Punjabi, he a Haryanvi Jat. Love transcends caste and language barriers. They get married. He qualifies for the Indian Police Service and becomes a sahib. She, his devoted memsahib. Together they go from one posting to another. He is an able and upright administrator and goes up in the service. She is a doting wife and mother. The story could well have ended as fairy stories do, "and they lived happy ever after".
But there were a few setbacks. He fell out with his political bosses, ever a venal lot, who punish him for being able to be upright by transferring him from post to post. He ends up in the Central Secretariat in New Delhi, an undistinguished babu among hundreds of babus. His aim in life is to be a Joint Secretary in some ministry. She rejoins college to earn a doctorate. They have a squabble or two. Which married couple does not? Suchita found a reputable publisher to market her novel. Tejender Khanna, Lt Governor of Delhi, officially released her book and had words of praise for it. I was disappointed. She remains a pedagogue and has not been able to shed the tone of a teacher of English language. Her descriptions of village life as well as her one and only romance are cliched, all dialogues sound alike. To be a story-teller you have to be a bit of a gossip-monger, a nosy mischief-maker with a lash of malice. It may be hard but not impossible for one as talented as Suchita Malik.
War clouds
Heavy and hoarse breathing;
The nation seething;
Anger unprecedented, fear, grief and disgust;
A dreadful legacy, although it was not the first;
The Mumbai carnage was easily the worst;
So what must be done?
Attack Pakistan, obviously walk through Lahore, Peshawar, Rawalpindi;
And hang every jehadi by the neighbourhood tree;
As on your way, you destroy Pakistani military;
It is shameful to talk of diplomacy, counsel caution;
What consultation? What is the hesitation?
Go and light up a conflagration;
But first confiscate their nuclear arsenal;
And if you cannot, let there be a holocaust;
What if suicide and vast?
So, go and jump into the fire;
And, thus, express your noble ire.
(Contributed by Kuldip Salil, Delhi)