Bonding with Bond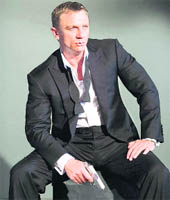 Till now, we associated tuxedos only with James Bond. But now this sleek western outfit has become a part of the city's formal dos as well
Sorry Madam, all the tuxedos in the shop have been sold out. But we can get them made," says a shopkeeper in Sector 17. Sold out, we are zapped. Who wears tuxedos in the North? We bet they haven't even heard about it. But we are certainly in for a surprise. Tuxedos, according to most sellers in the city, are the most sought-after by NRI grooms. Now, this is what we call fashion breaking international borders! Indeed, says Sanjiv Mahajan, of Reid & Taylor, Chandigarh, "Almost every NRI family goes for a tux, and it is no longer an international fashion statement.
Sallu Wanted!
…and we manage to arrest him, if only for five minutes
And who says persistence and patience does not pay. These are the two words that a senior colleague once spelled, when we said chasing stars was the most detested of all assignments. On the Kurali road, the sets of London Dreams are set amidst green fields. Thankfully, not many onlookers, only a few curious villagers. But this does not make the job any easier.
Men in black

The 14th annual Critics' Choice awards in Santa Monica, California, saw a brigade of stars walk the red carpet

Director's take: British director Danny Boyle poses with his Best Director award for Slumdog Millionaire.


A musical: A.R. Rahman poses with his award for Best Composer for Slumdog Millionaire.


The enchanter: Actor Richard Gere poses with the Joel Siegel award. Photo: Reuters
Another dream, another contest
The city saw auditions for another so-called international beauty pageant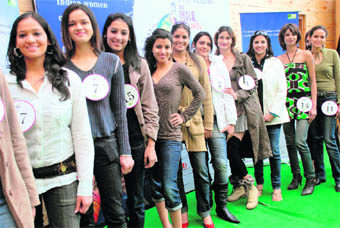 It was quite natural for us to expect long queues outside the Tagore theatre as we were told some 300 girls would turn up for the auditions. But what we saw was disappointing and annoying to some extent. Guess, high time for organisers to realise that hype doesn't do any good until there is something substantial. Held in the city on Friday, PC Jewellers Miss India Worldwide—India 2009 turned out to be a hollow event. Claimed to be the 'truly International beauty pageant', the auditions were taken by just 20 girls.
Touch wood
From coffee table to dining table, there's a wood world waiting to be explored
Vintage seems to be the mantra not only for fashion trends but also for your home sweet home. And when thinking of home décor, what can be more traditional than wood furniture. So, Fabindia-Panchkula, brings you the new range of furniture that has a traditional yet trendy look.
Kabhi dhoop kabhi chhaon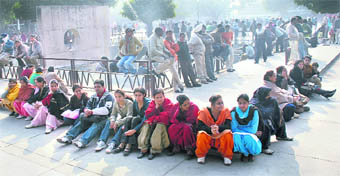 People make the most of the sun at Sector17 Plaza on Friday. Photo: Pradeep Tewari

Bon Appetit
Kababs for Nawabs
During a Muslim nikaah ceremony the impending kabaab preparation gets discussed by the "chacha jaan, buaa, khaalaa, maamu jaan and aapaa" with such fervour that any bride or groom could easily feel sidelined! Lucknow remains the seat of Avadhi cuisine. While there are kalmi kababs and tangri kababs, which are served on the bone, a' kabab mein haddi" implying a splinter of bone would be as undesirable indeed as unwanted company! To maintain the juicy quality of kabaabs, they have to be drizzled generously with good desi ghee.
Jackson's failing health
Michael Jackson may have only six months to live, as he is suffering from a deadly genetic disorder, according to a new report. It is learnt that the Thriller' hitmaker's health is deteriorating rapidly because of a crippling addiction to painkillers and alcohol. "It's tragic. His condition is just so far gone, I'd be surprised if he lasts six months," a source was quoted as saying.
Runaway bride
Actor Kate Hudson would prefer eloping to getting married in a 'big production' like setting. Although the Bride Wars star, who is divorced from Black Crowes frontman Chris Robinson, has not ruled out marrying again, she doesn't want a huge wedding.
Role reversal


Technical finesse helped Brad Pitt to play his 80-something character transform into an infant in his latest flick
'The Curious Case of Benjamin Button, tells the story of a man born in his 80s and who then physically grows younger, used a totally computer generated version of Pitt as Benjamin - from the neck-up. "For all intents and purposes, we effectively created a digital puppet of Brad that Brad could operate," Ed Ulbrich, executive VP of production at Los Angeles' Digital Domain said.