RTI Act
Info panel slaps notice on DTO
Ludhiana, January 10
Coming down heavily on the District Transport Officer (DTO), the Information Commission, Punjab, has issued a 10-day show cause notice to him asking why he should not be asked to compensate fsor not delaying information to an applicant and why disciplinary action should not be initiated against him under Section 20 (2) of the RTI Act, 2005.
Tehbazari teams remove encroachments
Ludhiana, January 10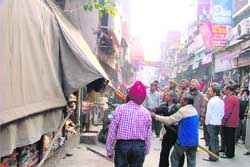 Continuing with its daily anti-encroachment drive, tehbazari teams of all four zones of the municipal corporation (MC) held a joint exercise in various parts of the city here today. The first target for the drive was Sarabha Nagar, where Sacred Heart Convent School was on the hit list due to the parking of vehicles on the MC areas.

A tehbazari team of the MC removes encroachments in Ludhiana on Saturday. Photo: Inderjeet Verma
Rs 10-cr pension for PAU retirees ordered
Ludhiana, January 10
Chief Minister Parkash Singh Badal has ordered the release of a grant of Rs 10 crore to Punjab Agricultural University for disbursement as pension to the retirees of the university.
Class V exams from March 16
Ludhiana, January 10
The Class-V examinations will be conducted by the Punjab education department from March 16 to 21.
Kidnapped principal found unconscious
Jagraon, January 10
A retired school principal, who was reportedly kidnapped at gunpoint from Manuke village, was recovered from GT Road, near Neelon Bridge, last evening.


CM gives Rs 76 cr for Payal
Disburses cheques under shagun schemes
Khanna/Samrala, January 10
Chief Minister Parkash Singh Badal yesterday sought votes for his party candidates during Vikas Yatra. He also released funds for various projects in Khanna, Samrala and Payal.
Doraha-Payal Road
Construction work on at snail's pace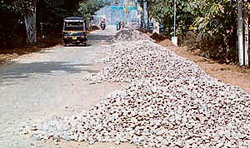 Doraha, January 10
The road construction work initiated under the Prime Minister Grahmin Sadak Yojana on the Doraha-Payal road a few months back is going on at a snail's pace much to the chagrin of local residents and the passers-bys.



Gravel on the under-construction Doraha-Payal road is commuters' nightmare. Photo by the writer
PNG, the real architect of DMCH
Ludhiana, January 10
Prem Nath Gupta, former secretary, Managing Society, Dayanand Medical College and Hospital, was cremated yesterday and a large number of people, including industrialists, traders, doctors, intellectuals and professionals, attended it. The cremation ground was full of people. Prem Nath Gupta died yesterday after a prolonged illness. He was 84.
Experts discuss new techniques in dentistry
Ludhiana, January 10
The understanding of aesthetic dentistry in India has opened up avenues for orthodontists, making the field more innovative, stated delegates at the 48th Punjab State and North India Dental Conference and North India Dental Students Conference here.
Chinese kites flood city markets
Ludhiana, January 10
With Lohri on its way, colourful kites have started dotting the sky. With a wide range of kites from miniature to gigantic size available in the market, youths are having a gala time. Chinese kites have taken the market by storm. Colourful kites in the shapes of eagle, birds, human figures, fish, insects, animals, written characters, etc. can be seen zooming in the sky everyday.
Plastic 'dor' fatal for birds
Ludhiana, January 10
The rapid sale of plastic thread has caused concern among bird lovers in the city.
Punjabi culture rocks small screen too
Ludhiana, January 10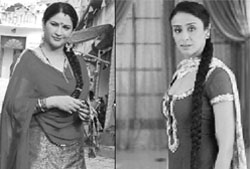 Known for its vivid and rich aspects, Punjabi culture has not only become a subject matter for Bollywood flicks but small screen production houses are also cashing on the same. The actors, which were earlier seen flaunting western apparels are today seen decked up with heavy suits, jewellery and loud make up. Not only this, production houses are also spending crores of rupees for creating sets depicting Punjab's towns.
Kunickka /Achnit Kaur
Khalsa is grievances panel member
Ludhiana, January 10
The Punjab government has appointed Manjit Singh Khalsa and BJP councillor Sarabjit Singh Kaka as members of the Ludhiana District Grievances Committee.
Rahul fit to be PM, says Tewari
Ludhiana, January 10
A day after four Congress leaders gunned against former party MLA, Surinder Dawar, AICC national spokesperson Manish Tewari today asserted that the party in Punjab was absolutely united and the rank and file was fully geared up to fight the parliamentary elections.
Education dept in fix over add-on subjects in Class X
Ludhiana, January 10
Confusion prevails over the reported decision of the Punjab Education Department to introduce seven subjects in the Class X from the new academic session.
Arya College wins quiz
Ludhiana, January 10
An inter-college quiz was organised at Sri Aurobindo College today. As many as 19 college teams from the various places in the state, including Abohar, Chandigarh, Jalandhar, Patiala, Gurdaspur, Alour, Dakha, Jagraon and Sidhwan Khurd, participated in the contest.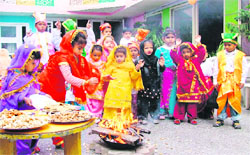 Tiny tots celebrate Lohri
Ludhiana, January 10
Tiny tots of Kiddies Paradise celebrated Lohri with great enthusiasm. Wearing traditional dresses, the kids sat around bonfire and enjoyed 'gachak' and 'rewris'.



Tiny tots of Kiddies Paradise school celebrate Lohri. A Tribune photograph
3,544 take scholarship test
Ludhiana, January 10
A scholarship examination was conducted for Class V and VIII students of government schools today. As many as 2,244 students of Class V appeared in mathematics test, while 1,300 students of Class VIII appeared in mathematics and science subjects.


Medical stores raided, 2 booked
Ludhiana, January 10
A team of health officials today booked the owners of Dhawan Medical Agency and Sumiksha Medical Agency on Pindi Street under Drug and Cosmetics Act.
Postal badminton squads announced
Ludhiana, January 10
Five-member team in the men's section and a two-member squad in the women's section of the Punjab postal circle have been selected to take part in the All-India Postal Badminton Championship, slated to be held at Patna from January 20 to 24.
Pranav bags another title at Guntoor
Ludhiana, January 10
Pranav Chopra, a trainee of the Ludhiana Badminton Academy (LBA), has bagged another title in the All-India Junior Ranking Tournament that concluded at Guntoor in Andhra Pradesh yesterday.
Fatehgarh Sebia village wins kabaddi championships
Jagraon, January 10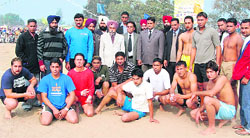 The rural sports festival of Malak village concluded with winning teams celebrating their victory. The Sher-e-Punjab Sports and Welfare Club, Malak, conducted the three-day sports festival at the village.



Players of kabaddi open championship pose with the chief guest. A Tribune photograph
Jarkhar sports club reorganised
Ludhiana, January 10
The Mata Sahib Kaur Sports Club, Jarkhar, has been reorganised. A new team of office-bearers of the club was unanimously elected at its general-body meeting held here on Friday, which was chaired by the Chairman of the club, Narinder Pal Singh Sidhu.