In midst of a long journey
Amar Chandel
Innovative India Rises
Ed. L.K. Sharma.
Medialand, London.
Pages 364. £35 (soft cover), £ 45 (hard bound).
THERE was a time not too long ago when "India" and "innovation" fell under antonyms. We were happy and contented being copycats, duplicating the innovative ideas that the other countries came up with, and just enjoying the end result.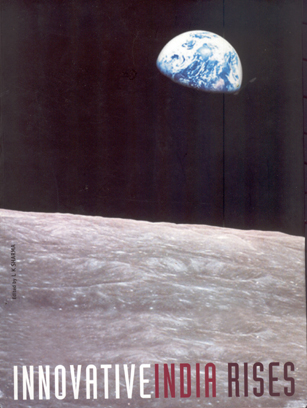 How things have changed! Today, India itself is a powerhouse of novel ideas which are making earth a better place to live. The transformation from a techno-coolie to a creative genius has been slow in coming but it is too pronounced to be missed by anyone. It strikes you even more forcefully, when seen in totality, as presented in this book, which has been edited by eminent journalist and author L.K. Sharma.
Innovative India Rises is a sequel to Innovative India which had come out about a decade back. Some of the most eminent scientists, technologists, administrators, chairman of companies, scholars and entrepreneurs recount the progress made so far and the roadmap of the long journey ahead. The 85-odd essays have been divided into such sections as "space", "earth", "atomic energy", "defence research", "biotechnology" and "information technology".
Then there are generic sections like "Wide Angle" and "In Depth" in which such legendary figures as R. Chidambaram, R.A. Mashelkar, M.S. Swaminathan, Bimal Jalan and Kiran Mazumdar-Shaw delineate on such topics as "Innovation in the Indian Perspective", "Resurgence of Innovative India", "From Green to Ever-Green Revolution", "Science, Technology and Development" and "India's Mantra: Affordable Innovation".
It is the affordable and grassroots innovations which form the core strength of India's effort. These have helped India soar in space despite the technology denial regime, which even refused technologies for making tyres and detergents. Not only that, it has reached the moon — both literally as well as figuratively — at ridiculously low rates. Many of the major R&D projects are now maturing, bringing in enhanced returns on investment. Brilliant fundamental research work done immediately after Independence is now at a take-off stage, and is winning the country admiration as well as leadership.
Funding of scientific institutions and programmes has been increasing. More important, private participation has been encouraged in research and in some high-technology industries, bringing about a new synergy.
Innovation is meaningful only if touches and improves the life of even the poorest of poor. That is where Indian cross-pollination between science and society has been remarkable.
R. Chidambaram, Principal Scientific Adviser to the Government of India, is optimistic that India can become a global innovation leader provided it makes the right technology choices, has a robust innovation eco-system, leverages international cooperation to reinforce our own innovation strategies, and introduces "coherent strategy" in our S&T system-related activities.
Kiran Karnik, former president, NASSCOM, enumerates positive factors which can make Innovative India into Incredible India.
Eminent scientist Mashelkar exhorts us to develop a culture where an innovator will have the right to fail. Only then will people take risks and come up with novel ideas.
M.G.K. Menon, Adviser, ISRO, opines that as we move into the future, the S&T policy will have to be directed along three lines. One, apply the great powers of S&T to meet basic human needs. Two, embark on major thrusts in the areas of informatics, biotechnology and new and renewable sources of energy, etc. And three, continue with areas of high technology such as nuclear energy, etc.
Anil Mittal, Chairman, Atomic Energy Commission, exhorts the nation to meet its present and future energy needs with minimum exploitation of earth's resources.
M. Natarajan, Secretary, Department of Defence R&D, underlines how the DRDO has established strong links with industries through the CII, Assocham and FICCI in the pursuit of technological goals.
Sunil Mittal, president, CII, and CMD, Bharti Enterprises, predicts that agriculture is going to be the biggest growth area. He wants that Indian fields should be linked to consumers of the world.
Editor L.K. Sharma wants India to make "Swadeshi" a really effective strategy, instead of just an empty slogan.
Since the book also has articles by the Science Adviser to the US President, the Science Adviser to the Prime Minister of Canada, the Director-General for research of the European Commission, diplomats, academic, think tank researchers and science writers, it caters to an intellectually borderless world.