A heavy dose of Northeast
Parbina Rashid
Next Door
by Jahnavi Barua.
Penguin.
Rs 250. Pages 232.

THE book is titled Next Door but given the geographical distance and the cultural differences it encapsulates, the anthology is anything but next door! The plot of the short stories happens to be remote areas of Assam, unfamiliar to many readers. For them, even the name of the author may be unfamiliar.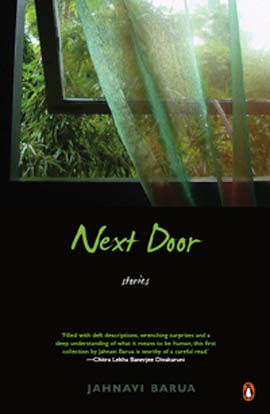 Jahnavi Barua, who is a doctor, settled in Bangalore now, is passionate about the land she comes from. Well, to be factual, so are thousands of people living outside their home state. As the saying goes, "you can take a person out of Assam but you cannot take Assam out of her".
So, it is a heavy dose of the Assamese culture, expression, simple and uncomplicated desires of the people of this region that comes through her 11 short stories. She takes inspiration from everyday life and events and manages to touch her readersí heart with simplistic narration.
Like in The Magic Spell a child, caught in domestic dispute, takes refuge in nature and swallows some poisonous seeds, which, she believes, has a magical power. The incident shakes the couple out of their pettiness. Another story, which will haunt the readers for a long time is Holiday Home. The story deals with the dignity of a dying woman with which she steers the life of her four-year-old son. There is no melodramatic situation or poetic words to describe the last few days of a breast-cancer patient, only simple acts and words poignant enough to make one feel her pain.
No Assamese can remain indifferent to the Brahmaputra. So, as one would expect, the mighty river and a few of its tributaries namely Pagladiya and Bharalu feature in most of her stories. In River of Life, a news-item related to the Brahmaputra changes the course of life of a mentally retarded man while in Honeybees, Pagladiya, the crazy river, becomes instrumental in deciding the fate of a simple guy with simple aspirations in life.
Emotion is Jahnaviís strong point and so is narration. As a writer, she is able to provide a true-to-life portrayal of the places that serve as the backdrop of her stories. She paints an eloquent picture of those sad-looking, dilapidated Assamese houses which one gets to see as one moves away from Guwahati towards the rural side.
In keeping up with the trend of regionalisation of English, she has thrown in a generous amount of Assamese words, even abusive ones, in her text. Even her expressions are typically Assamese, like a husband calling his wife "Hera, can you hear me?"
So, a reader gets a taste of true Assamese flavour. But the question is how well would a reader, who is not familiar with either the terrain or the lifestyle of the Assamese, be able to relate to those stories.
Unlike Jhumpa Lahiriís Unaccustomed Earth, in which the author plotted the stories in the global context, subsequently narrowing down to the Bengali culture, and thus facilitating the reader to connect with both the plot and the characters, Jahnavi keeps her plot a little aloof by limiting most of her stories within the geographical boundary of the Northeast, except for A Fire in Winter, which is set against the backdrop of Manchester.
Only time will tell how well these subtle and evocative tales of human life in this trouble-torn region will be received by readers, a majority of whom still consider the Northeast a land of head-hunters and trigger-happy militants.