Agony of Partition
Aditi Garg
Love Longing and Death — Mystic Stories
by Amar Jaleel.
Promilla and Co.
Pages 262. Rs 295.

THERE are episodes and happenings in everyone's lives that leave a lasting impression on their psyche, and most of their life's course is shaped by them. Then there are happenings that are very deeply etched on the mind of not only an individual but on society as a whole. While some choose to go on with life pretending it no longer matters, others are faced with echoes of the same every single day of their life. The partition of India and the creation of Pakistan and Bangladesh is one such holocaust. So many years have gone by but those who have witnessed it still feel the same pain all over again at every mention of it. The younger generation can only feel empathy at best on account of history books or survivor's accounts. For someone who had always been an Indian and all of a sudden had to give up the right to call themselves that and become a Pakistani or a Bangladeshi is not as simple and indeed a trauma like no other.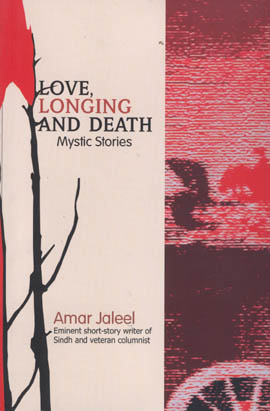 Author Amar Jaleel was born in 1936 in Sindh of undivided India. He is a highly respected and eminent Sindhi writer, columnist, short-story writer and a novelist. He has written hundreds of short stories and a bestseller novel in Sindhi, Naith Goongay Ghalayo. As a political analyst, he has concentrated on one theme: why the partition of India was wrong? His writings also focus on this subject, the sadness and futility of Partition. He conveys the anger, irony and compassion of a sensitive writer moved by the miseries, disappointments and aspirations of his fellow beings. He dedicates this book to the children born to the millions of Hindu, Muslim and Sikh women dishonoured during the riots of 1947 and born the following year in 1948. He notes that they turn senior citizens in India and Pakistan in 2008. They are all joined by the common pain that they have borne and there could not have been a more appropriate book to mark the occasion.
The author has a varied selection of stories and some that border on being musings. His underlying theme though remains the pain and suffering meted out to men and women at the hands of incompetent and self-satisfying politicians. In the preamble, he sets the mood for the book. He says the Muslims at the behest of the All-India Muslim League had refused to coexist with the Hindus 60 years ago. It is indeed ironical then that they should fail so miserably to coexist peacefully amongst themselves in a state carved out especially for them and have retrogressed badly in every other field other than warfare. He questions the decision to partition a nation. He rues the fact that he is a stranger in his own country and an outsider in the country of his birth. The stories strike a chord with the readers. Be it a 70-year-old man who waits to fulfil a promise almost all his life and by the time he does, it is too late or khamosh who becomes mute after a terrible incident leaves him speechless. He talks of how an ordinary Muslim is brainwashed into believing that by killing a Westerner, he can secure his place in jannat. The stories also tread the mystical path and seek the unknown and unattainable. Like the living deity in It Happened in Mumbai, an invisible entity in An Encounter With the Alien or God as he appears to Dasht in Dasht in Search of God.
His stories may be sensitive but they are powerful in content and not the work of someone who lives in fear. So disillusioned is he with the workings of the Pakistan government that in The Plea for Narendra Kumar, he shows how helpless even God is when he declines to interfere in the workings of the Government of Pakistan. He is certainly not the kind of writer who would mince words and nothing can stop him from calling a spade a spade. One of his characters sums up the theme when he suggests that the only way to have cordial relations between the two countries is to ensure that India forgive Pakistan, that the land that constitutes it was once an integral part of India and Pakistan give up justifying what is hard to justify, the partition of India in 1947.