Food talk
Magic of methi
Fat-free and low on salt, methi gobhi is sure to tickle the tastebuds, writes Pushpesh Pant
THE world is just about beginning to discover the virtues and joys of methi, known abroad as fenugreek. There it is an exotic herb but here at home we have relished it for centuries as vegetable-greens-aromatic spice and, oh so wonderful, tempering. No one complains about the inherent bitterness. Ayurveda tells us bitter is one of the essential tastes — certainly not to be eschewed but included in daily diet.
Things bitter purify the blood, cure many skin ailments and now modern medicine seems to confirm what the village vaidya always maintained — bitter is good for diabetes. Methi, it is not surprising, is in vogue and how. Our neighbourhood halwai has resumed making methi ke laddoo mildly sweet as a winter specialty and we were treated to methidana kishmish ki Rajasthani subzee at a friend's place.
Methi is believed to have garam taseer and is particularly favoured in the cold season. The non-vegetarians prepare keema methi, methi murg or macchali and the Kashmiri repertoire boasts of a stunning methi chaman. All these are old friends. But we are always more than wiling to try something new. Who knows when and how a lifelong affair begins? Let's confess we have been seduced effortlessly by methi gobhi that we had at Kamaleshji's place last week.
The poet friend carries his delicate sensibilities into his kitchen and lavishes same loving care on the dishes he cooks as he does on his evocative multi-layered verses. The poems are often marred in translation so we won't even try but am delighted to share with you the recipe for the culinary work of art.
As you shall see like most breathtaking masterpieces this too is simplicity itself. Extremely healthy, with virtually no fat and low on salt. Actually, squeeze a little limejuice and dispense with the salt.
Chef's corner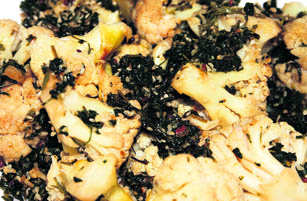 Ingredients
Cauliflower 750 gm
Fresh methi greens 500 gm
Methidana 1/2 tsp
Cinnamon powder 1/2 tsp
White sesame seeds 1 tsp
A large pinch of dried kasoori
methi leaves
Oil for tempering 1 tsp
Salt to taste
Method
Boil water with a little salt and a pinch of haldi in a large pot. Wash the gobhi well and break into bite-size florets. Blanch in boiling water for 30 seconds, then refresh in cold water. Clean and wash the methi green and chop fine, including the stocks. Place a non-stick pan on flame and put in the gobhi, along with the methi greens. Sprinkle salt and cinnamon powder. Stir well and cook uncovered on low medium heat till done to taste.
Heat oil for tempering in a small ladle, and when really hot put in the methidana. When these begin to crackle, quickly add crushed kasoori methi and pour this tempering over gobhi. Sprinkle toasted sesame seeds just before serving.