Madhushala on canvas
By way of 135 serigraphs, Sanjeev Kumar has enthused new life into the verses of
Harivansh Rai Bachchanís magnum opus, writes Nonika Singh

Raah pakkad tu ek chalachal paa jaayega madhushala ...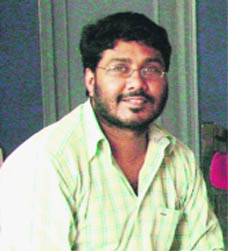 Sanjeev Kumar
IT was in 1994 as a student of Rabindra Bharati University, Kolkata, that Sanjeev Kumar got smitten by Harivansh Rai Bachchanís poetry, which continues to inspire him even after a decade. This passion brought forth his artistic response in the form of a few illustrations. He has created a magnum opus of sorts ó Madhushala visually translated by way of 135 serigraphs. Taking a leaf from the poetís book, Sanjeev can easily proclaim "mere hi swaron se phir goonj uthegi madhushala."
Only his swars are in the visual language of printmaking. It can be easily said that Sanjeevís creations have enthused life into the verses of Dr Bachchan. As poetry is juxtaposed within his artworks, the visual imagery and the words fuse into a cohesive form. Sanjeev incorporated verses as part of his prints to showcase his unusual ability of writing in reverse order, more so since he had originally chosen the lino technique, which like a mirror image, reverses the words when printed. But later he settled for the simpler medium of serigraphs because he didnít want technical skill to dominate the spirit of the word.
But doesnít his endeavour (even if an onerous one) indicate an attempt to ride piggyback on the genius of a great man? Sanjeev isnít ruffled by the disconcerting query. Instead he says, "For me, itís a tribute. Call it a visual ode to the greatnesses of Bachchan. Madhushala is the quintessence of life and this was the only way I could come to terms with its profound impact on me and internalise its spirit".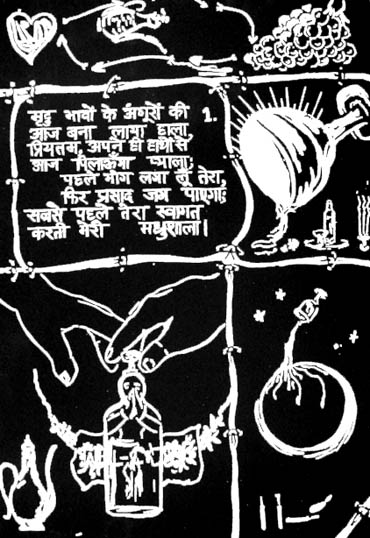 Serigraphs adorn Sanjeev Kumarís version of
Harivansh Rai Bachchanís Madhushala

But the going wasnít easy. He confesses that there were many a moment of vacillation and hiccups. Often the corresponding visual imagery simply eluded him.
Interestingly, Sanjeev hasnít followed one particular style. His imagery traverses from minimalist to visual verbosity. At one point, it is completely illustrative and then it dittoes narrative school of his alma mater MS University, Baroda, from where he specialised in printmaking. He muses, "Indeed, there was grave danger of repetition. Certain icons like the pyala did figure again and again". But soon he found his signature symbols like the chilli and his favourite leitmotif of sound patterns permeating Madhushala, thus decisively owning it up.
"The idea behind this interdisciplinary approach to art was to reach out to those who enjoy poetry and are keen on visual aesthetics too", he adds. But as the original copy is likely to cost a whopping one lakh, does he seriously believe there are takers for such an artistic extravagance? He agrees that marketing could be an uphill task. In his long journey, finance was an impediment that often made him hum lines from Madhushala "Chalne hi chalne mein kitna jeevan bita dala, himmat hai na aage badoon saahas hai na peeche lautoon door khadi hai madhushala."
But the response of artists like Anjolie Ela Menon, Pinaki Barua, Jogen Chowdhury et al who offered him their own visual interpretation of verses of Madhushala firmed up his resolve. And now their prints comprise yet another delightful collection of 13 prints titled "Artists in portfolio". As the Art Awake Foundation comes to his rescue, ready to launch both the Madhushala and the Artists in ... and offset book form too, he stands reassured, even feels vindicated that the less-travelled path he chose was the right choice. Few select buyers have already booked the collectors item.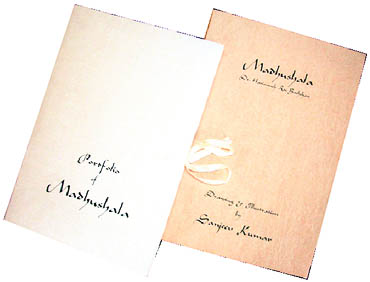 Sanjeev agrees that in India printmaking has, at best, only a niche market. He squirms, "What to talk of buyers, even artists themselves donít know what are the guidelines of printmaking like how many editions, how many artistís copies et al." His original work will go into 101 editions only.
All set to unveil his book in an ambitious multi-city extravaganza, he agrees that in art there is no final or best image. Wistfully he quips, "Maybe 25 years from now I will respond differently and then perhaps add a dash of colour to these black and white prints ". For now, he is content with his unusual foray. Hoping that in future whenever Madhushala is mentioned, his name too might figure, he is already looking forward to work on Rumiís poetry.
Can he justify a poet who originally wrote in Persian? Smiles Sanjeev, "Not all art is justified." But all art, he believes, has to be triggered by an impulse within to create something anew. Hailing masters like Leonardo da Vinci, Vincent van Gogh, and Salvador Dali as his ideals, this recipient of prestigious Pollock-Krasner Foundation grant is constantly seeking new sounds, smells and, of course, poetic resonance too. For he knows too well how poetic thought can intoxicate and change lives. Only he has transformed the word and world of poetry too.