Joy of
dance
Sensual dances have come of age in urban India and are no longer associated with vulgarity.
As their popularity grows, many dance studios and institutes, where these are taught,
have come up in metros, says Kalindi Sheth

YOU have to feel sexy," says Lavina Khanna, as she instructs a group of women ranging from college students to the middle-aged. Khanna is taking a session in lap dancing, as part of her fitness class at Pulse Studio in Mumbai. While some of her students giggle, others attempt a slinky catwalk around a chair. "Now that exercises your thighs, and as you sway your hips, imagine a man sitting on that chair... and tone your glutens," she encourages, as the women simulate a scenario they have seen only in the movies.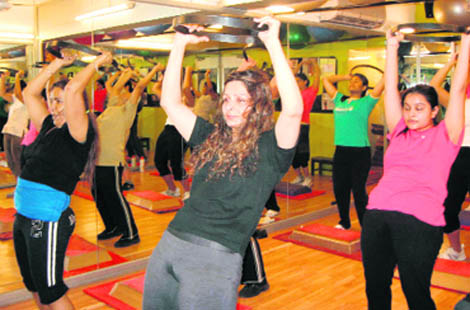 DANCE LIKE AN EGYPTIAN: An aero dance class in progress



Couples doing the tango (top)


Lavina Khanna, an instructor at Pulse Studio in Mumbai takes a session in lap dancing, as part of her fitness class in Mumbai Photos: WFS
Sensual dances have come of age in urban India. They are no longer considered the preserve of bar girls, or those in cheap professions. Lap dancing, belly dancing and pole dancing are popular offerings at institutes across the metros. Some do it for fitness, while others have just been waiting for the opportunity to explore their sensuality. Shilpa Rane (35), who holds the distinction of having started the first pole dancing class, under the name Dare and Bare at Gold's Gym in Mumbai, says that her aim is to make women feel good about their bodies while also helping them achieve their fitness goals. "In a one-hour class, they go through basic butt moves, hip rolls, catwalk and squats. It is an intensive workout for the thigh and leg muscles. But I also want them to feel sexy because sensuality is in the mind rather than the body," explains the instructor.
Rane's classes are frequented by women of all age groups and professions—from graduates and stay-at-home mums to busy professionals and the happily retired. "I don't take girls under the age of 18 because as a country, we still need to work on removing the mental block against these dance forms. The moment you say pole dancing [one feels], it is not something wives and daughters hailing from good families do. That is why several women lie at home and say they are just going for a fitness class," she reveals.
But that is not the case with Simone Narsi (36), who supported her 68-year-old mother, Ruby, when she signed up for a belly dancing class at the Arts and Motion Dance Studio in Mumbai. "It had been my mother's long-pending dream to learn belly dancing and it wasn't available when she was young. So, why stop her from fulfilling a wish? She even showed me a few steps, and I can say that she had a lot of fun."
Manisha Shetty (34), a manager with an airline, had also been nurturing a childhood dream ever since she saw an Iranian friend's mother take to belly dancing. When a class opened up near her residence, the classical dancer took to it without apprehension. "I am not doing it for fitness. For me, it is a stress-buster, a time to pay complete attention to my body. It is all about isolation. When you move your belly, you keep your chest and hips stiff. At some level, it is like meditation, and only if you get past the taboo linked with it do you really enjoy it," says Shetty.
Aanchal Gupta (30), who started the Arts and Motion Studio, feels a sense of gratification when women such as Shetty join her class. She herself faced challenges when she set up the academy in 2005. "I come from a conservative, business background. My own family had issues with it. They thought such dance forms are not for respectable people. But over time, with more people willing to experiment and explore, these dances have become more exotic and erotic. In fact, we have an annual show, titled 'Dance with Joy', dedicated to a cause such as breast cancer and street children. Many of our students perform enthusiastically.
Today, Gupta's first batch of belly dancers has reached level eight, and many more are signing up. Along the way, several have gone from being coy Indian wives to sensual, confident belles. "The first day, when you have to roll up your T-shirts, you can hear giggles and feel the reluctance. It is because Indian women aren't always comfortable with their bodies. But by the end of it, you see instances of tattoos and naval piercing. The transformation is amazing," says Gupta, grinning.
She doesn't allow men into her belly dancing classes but does plan to introduce the Bachata, a slow and sensual couple dance that originated in rural Dominican Republic, in which men and women are required to be in a partner-hold while dancing. As the popularity of these dance and fitness forms soars, many dance studios and institutes are quickly dropping inhibitions and following suit. Abhilasha Ganeriwala (40), Director, Pulse Dance Studio, believes that these dances will soon be commonly patronised and enter the mainstream. "If you attend a class or two, you see that it is completely harmless and a lot of fun. What you do within the four walls of a classroom, even if it is erotic, cannot be labelled cheap. Besides, the regular aerobic and weight-training workouts have become so boring that people are lapping up the change," she says.
With change, come seamless benefits. As Ruchi Shah (26), a Bollywood aspirant, who has taken to pole dancing, says: "I started attending the class when I was 18, and haven't stopped since. I have lost a tremendous amount of weight and have also become comfortable with my body, which was important since I was never skinny. I have even picked up a few dancing skills, which are important if you want to act in films." — WFS