A new dawn
The year is likely to witness some of the biggest, brightest and bravest films to hit
the Hindi screen ever, writes Derek Bose

Contrary to all prophesies of gloom, 2009 has begun on a positive note for Bollywood. The spirit of good cheer and optimism that marked the release of Aamir Khan's Ghajini during the Christmas weekend has spilled into the New Year, with the box-office now suddenly looking upbeat. Aditya Chopra's Shah Rukh Khan-starrer, Rab Ne Bana Di Jodi is also going strong in many parts of the country. Up next is Nikhil Advani's long-awaited Akshay Kumar-starrer Chandni Chowk to China, to be followed by another biggie within a month — Shah Rukh Khan's Billoo Barber. In fact, 2009 could well witness some of the biggest, brightest and bravest films to hit the Hindi screen ever. Here are 10 such recession-defying films lined up for the next 12 months: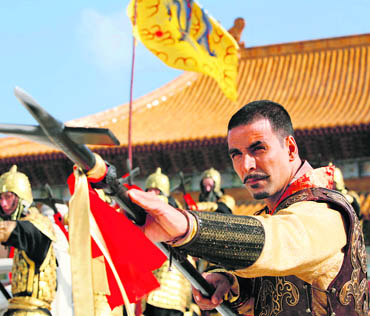 There are high hopes from Nikhil Advani's Kung Fu action drama Chandni Chowk to China with Akshay Kumar in the lead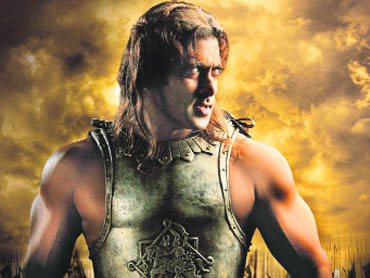 Salman Khan plays a warlord in an indeterminate
region in Veer

Chandni Chowk To China: Originally titled Mera Naam Chin Chin Choo, this much-delayed Kung Fu action drama bears slight resemblance with the humble beginnings of its lead performer Akshay Kumar in Delhi, his first job in a Chinese restaurant (at Hong Kong) and so on. Along the way, director Nikhil Advani turns it into a rip-roaring comedy of errors when this simple Indian cook is mistaken to be a reincarnation of an ancient Kung Fu warrior in a Chinese village where he goes to seek his destiny. Akshay displays his Kung Fu skills in good measure while battling through assorted Chinese villains, assassins and femme fatales with Ranvir Shorey and Deepika Padukone for company.
Billoo Barber: Irrfan Khan plays the title role of a village barber in this Priyadarshan remake of the Malayalam rib-tickler, Katha Parayumpol. Invoking the Krishna-Sudama myth, the film has Shah Rukh Khan as his childhood pal who moves to Mumbai to become an actor and is now back in the village for a film shoot. Nobody believes the barber when he says that the mega star was his bum chum at school. While Lara Dutta plays Billoo's wife, Kareena Kapoor, Priyanka Chopra, Katrina Kaif and Deepika Padukone provide the razzle-dazzle with some scintillating item numbers. Incidentally, the Tamil version of the film, Kuselam (which had Rajnikanth playing Shah Rukh's part) was a dead letdown at the box-office last year.
Kambakkht Ishq: Sabir Khan makes his directorial debut with Akshay Kumar and Kareena Kapoor sharing the lead (for the first time) in this lavishly mounted Rs 115 crore Bollywood-meets-Hollywood production, bankrolled by Sajid Nadiadwala. It is a simple and straightforward romantic comedy about an Indian stuntman (Akshay) who takes Hollywood by storm, but is unable to find love. Kareena, appearing as a "high society lady" plays hard to get. The focus though, would be on Hollywood biggies like Arnold Schwarzenegger, Sylvester Stallone and Beyonce Knowles (playing themselves) showing up in a Bollywood film for the first time.
Luck By Chance: In Zoya Akhtar's maiden venture, brother Farhan is cast as an actor who arrives in Mumbai, looking for work in films. He shacks up with a friend and does the studio rounds – in the process getting to observe up-close a producer (Rishi Kapoor), a senior actress (Dimple Kapadia), superstar (Hrithik Roshan) and a junior artiste (Konkona Sen Sharma). The story is essentially about these characters, but the director manages to stage a star parade with all the movers and shakers of Bollywood – from Shah Rukh Khan to Karan Johar to Aamir Khan, Kareena Kapoor, Salman Khan, Rani Mukherji and of course, Javed Akhtar and Shabana Azmi flitting in and out of the frames. It is a clever film for a first-time director.
London Dreams: The setting is London where two childhood friends from Mumbai share a dream of becoming rock stars, and eventually succeed. True to character, Ajay Devgan plays the brooding introvert with his patent goofy smile, while Salman Khan is a happy-go-lucky Punjabi who manages to find love in Asim Thottumkal (the Malayalee starlet of Ghajini fame). This is a typical syrupy musical with A.R.Rahman's scores marking the high points of the film. With Salman and Ajay Devgan playing diametrically opposite characters, director Vipul Shah is hoping to revive the magic of their last starrer in 1999, Hum Dil De Chuke Sanam — but with an aspiration twist.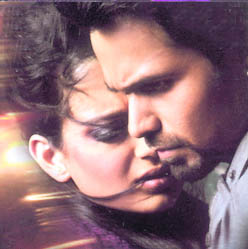 Raaz: The Mystery Continues is a spooky tale of an artist seized by visions of accidents

Raaz: The Mystery Continues: Starring Emraan Hashmi, Kangana Ranaut and Adhyayan Suman, this is a spooky tale of an artist seized by visions of accidents about to happen involving a woman he has never met but who is a recurring subject in all his paintings. He tracks down this mysterious woman (Kangana) and she freaks out when she sees a painting of her death foretold! Sounds familiar? Well, she has a boyfriend in Adhyayan, Shekhar Suman's son, who makes his debut as a rational, level-headed man working as a documentary filmmaker. Director Mohit Suri is obviously inspired by James Hadley Chase, but the film cannot be overlooked as it comes from Mahesh Bhatt's stable. Clearly, this is not a sequel to his earlier hit, Raaz which had Dino Morea and Bipasha Basu sharing the leads.
Shoe Bite: This is the working title of Shoojit Sircar's film that has Amitabh Bachchan (playing his age) as a bookstore owner who has taken his wife of 40 years (Sarika) for granted, till she meets with a near fatal accident. Faced with the terrifying prospect of having to spend the rest of his life all alone, the old man prays for her recovery and realizes, for the first time, the worth of his life partner. It is a moving tale on the sanctity of relationships, basic family values and human vulnerability, very much in line with recent family dramas like Baghban and Baabul. Jimmy Shergill and Dia Mirza also have key roles in the film.
New York: Director Kabir Khan (of Kabul Express fame) comes up with an action thriller set against the backdrop of terrorism. It is about three friends – John Abraham, Neil Nitin Mukesh and Katrina Kaif – having a good time in New York till events following the 9/11 terror strike turns their lives upside down. Neil plays Omar, a Muslim, who, by virtue of his faith, automatically becomes a terror suspect. (John is conveniently, Sam and Katrina is Maya.) Irrfan Khan, playing an FBI agent, is the only other Indian in the predominantly U.S. cast and crew, funded by Yash Chopra's production house.
Veer: As the 'Indian gladiator', Salman Khan is aiming to outdo the multiple-abs shirtless look of Hrithik Roshan (Dhoom 2), Shah Rukh Khan (Om Shanti Om) and Aamir Khan (Ghajini) combined. He plays a warlord in an indeterminate region, taking on the might of the British Raj around the time of the outbreak of the Indian Mutiny (1857-59). Director Anil Sharma has deliberately left all historical references ambiguous, the clear objective being to project Salman as a valiant, larger-than-life folk hero with a beefed-up, bronzed look. The latter has reportedly taken a 50 per cent fee cut in this Rs 100 crore film, the seed idea for which had come from him.
Acid Factory: Dia Mirza is the only female in the midst of a bunch of odd-balls, who include Fardeen Khan, Aftab Shivdasani, Manoj Bajpai, Irrfan Khan, Dino Morea and Danny Denzongpa. All of them suffer from loss of memory, such that their past is erased and identities forgotten. In this unlikely scenario, a killer wakes up one morning unaware of his crime, whereas all those innocent suffer from guilt pangs of having committed murder. This is director Sanjay Gupta's way of proving how memory influences our sense of right and wrong, good and bad, and how it can eventually alter the constancy of truth. It is Fardeen's turn to sport six-pack abs here.