Bollywood goes gay
Homosexuality in Bollywood is finally coming out of the closet, writes Shakuntala Rao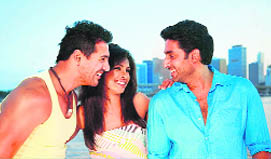 Dostana does not wish away gayness

WHAT is unique about Karan Johar's Dostana? Not much if you were to read the reviews in newspapers and magazines and watch seamless promos on cable. Comments from critics and viewers range from a "laugh riot" to "madcap comedy" to observations that it is a light-hearted take on the Kevin James and Adam Chandler flick, I Now Pronounce you Larry and Chuck. All this is true.
But what is most true is what movie critic, Rachel Saltz for New York Times, wrote, "Dostana deserves credit. It irreverently normalises a topic that has been virtually absent from screens in India (where gay sex is still technically illegal), and does so using contemporary Bollywood's best not-so-secret weapon: star power."
Dostana plays safe. It is set thousands of miles away from India (in over-the-top techni-colourised Miami) and starts with a song montage where the camera lingers on Shilpa Shetty's wet torso, hammering in the not-really-gay-premise. John Abraham flexes his muscles with little prompting and Abhishek Bachchan 'wows' every beach bunny in his quest for heterosexual glory.
Yet, Dostana deserves credit. Bollywood cinema has a long tradition of having comic sequences or songs featuring cross-dressing male stars (think Amitabh Bachchan in a sari in 1981's hit Laawaris) or any number of songs with hijras. But it was in 1991 that the film Mast Kalander featured Bollywood's first out and out gay character Pinku (played with flaming abandonment by Anupam Kher). Both comic and villainous, Pinku led to the omnipresence of the gay sidekick through the films of 1990s (Taal, Hum Hain Rahi Pyaare Ke, and Raja Hindustani to name a few). It took Karan Johar, however, to create in Kal Ho Naa Ho the truly funny gay subplot between two lead actors in a clever attempt to mainstream gay themes. Kantaben was the tongue-in-cheek comeuppance on all hetero viewers. A slew of films have generated chatter about gay Bollywood since which includes both disparagingly comic/camp (Out of Control, Masti, Market) and somewhat non-stereotypical characterisations (Rules: Pyar Ka Superhit Formula, Chameli, Hyderabad Blues 2). More sophisticated and subtle portrayals of gay issues have come from films outside of the Bollywood factory such as Deepa Mehta's Fire, Riyadh Wadia's Bomgay, and Onir's My Brother Nikhil.
Dostana, while focusing on the friendship of the three roommates, does not wish away gayness. In a classic Hindi film mother-son sequence, Sameer's (Abhishek Bachchan) mother accepts her son's sexuality. We know he is straight but the tolerance lesson stands: love is good, however you find it. The friendship is sealed with — wonder of wonders — a kiss on the lips between Mr. Bachchan and Mr. Abraham. Homosexuality in Bollywood is finally coming out of the closet, one film at a time.