ulta pulta
Souvenir stories
Jaspal Bhatti
I was reading a news item that the Queen of England has slapped a gagging order on the Buckingham Palace staff so as to preserve the royal secrets and have asked them to give back all royal mementoes, including hand-written thank you notes, because the palace staff had been auctioning such mementoes for a huge amount of money.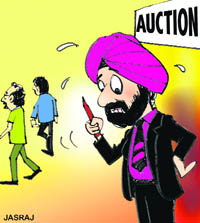 Our domestic help Gopal was standing beside me when I was reading the news. He asked for his monthly wages. I told him, "Look, you can keep this pen of mine with which I have written many pieces of Ulta Pulta."
"What shall I do with it? Do you want me to have its refill changed when I go to the market?" he asked. "No, this is a kind of souvenir, you see. You can auction it and make a good fortune out of it, much more than your monthly pay," I told him complacently.
He went out in the sun, sat there for a while, gawking at the pen. Then he came back, "Why would anybody give me a couple of thousand rupees for this pen that has seen better days?" I tried to make him understand by giving the Queenís example. A note from the Queen Mother to her page Backstairs Billy requesting Gin for an outing fetched him £16,000. "You should be thankful I am handing you my precious pen myself." Gopal again went out to ponder, while gazing at the pen. After another 10 minutes he came back, "Sir, is it not possible that you keep this pen and give my pagaar (wages)?" he requested. "Arrey bhai, donít you understand. If Sachin auctions today his bat, he could get millions. You donít value a celebrity," I shouted. He took the pen and left for the market. An hour later he came back with 20 different pens. "What happened?" I said. He replied, "I tried to auction your pen to many people saying it belonged to the great columnist of Ulta Pulta. Instead they donated their own pens and have asked you to try writing something sensible!"