Mumbai Heat
Aussie schools cancel visits
Dehradun, January 11
The November 26 Mumbai attacks have cast a dark cloud on the nascent adventure tourism in Uttarakhand. Following the terrorist attacks on Mumbai, many Australian schools that had tied up with Uttarakhand based tourism company to send their children for adventure tourism activities in Himalayas had cancelled their bookings.



Australian students have food at Kauri
Pass in Chamoli district during their
visit in September 2008.

Students participate in river rafting on
the Ganga at Srinagar Garhwal during
their visit September last.
Muchh-arraf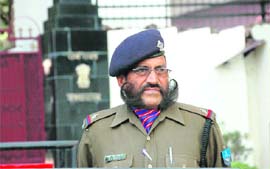 A policeman with a long moustache posted outside the Uttarakhand Raj Bhawan in Dehradun. Tribune photo: Vinod Pundir
Subhi, Rashika win
painting contest
Haridwar, January 11
Schoolchildren exhibited their artistic skills during a painting competition titled 'Kalam Otsav', at Jwalapur Inter-college near here yesterday.A total of 364 schoolchildren from 12 schools participated.
Make Punjabi second language, says Upinderjit
Dehradun, January 11
Education and languages minister, Punjab, Upinderjit Kaur has said the Punjab government would be taking up the issue of giving a second language status to Punjabi in Uttarakhand with the BJP-led government in the state.
Ashu Panjabi rocks Lohri Mela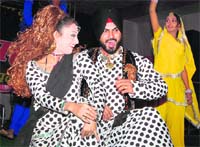 Haridwar, January 11
Renowned Punjabi singer Ashu Panjabi rocked the city with his foot-tapping musical scores and beautifully choreographed dance items late last night. Organised by the Panjabi Mahasabha at the Bhalla playground, the Lohri Mela was a huge success. The bhangra beats and hit songs saw many in the audience shake a leg, irrespective of age and gender.
Punjabi artistes perform at the Lohri Mela in Haridwar. A Tribune photograph

At Maroj Festival, local artistes impress
Mussoorie, January 11
Traditional folk culture of Jaunpur, Jaunsar and Rawaii areas of Uttarakhand was on display at Maroj Festival celebrated in Mussoorie Friday evening.