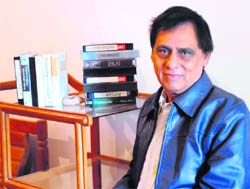 Tapesh Sharma with his tapes Photo: Pradeep Tewari
On record
In a time when most people are lapping up high-end DVD players, there are a few who have remained loyal to their old recorders
Technology reflects. A lot. More than the groundbreaking inventions, the pioneering expertise and never-ending progress, it mirrors the human nature. The nature to move on. To bigger and better things. In the process, technology performs yet another understated function. Of singling out humans, that refuse to be a part of the vacillating crowds swaying from 'the best' to the 'what's next'.
Of gods and goblins

Tucked snuggly in bed, eyes popping out in wonder, intently listening to Mamma reading aloud the adventures of Hansel and Gretel - one of the happiest childhood memories that many of us can instantly relate to. But in today's fast-paced life, have the old world fairytales — Cinderella, Little Red Riding Hood, Snow White and the Seven Dwarfs, Goldilocks and the Three Bears — been able to retain their charm? Recently a report said British parents have dropped the idea of reading some of the traditional fairytales to their children because they feel the fables are too scary and not politically correct. But what's the scenario in apna city? Lifestyle finds out.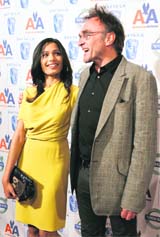 TWO TO TANGO: Actor Freida Pinto (L) and British director Danny Boyle of the movie Slumdog Millionaire arrive for BAFTA Annual Awards Season Tea Party in Beverly Hills, California, on Saturday. Photo: Reuters
Publicity? Not me!
Hollywood actress Lindsay Lohan has revealed that she has limited her charity work, as she is fed up of the media calling her efforts a mere 'publicity stunt'. The Mean Girls star revealed that whenever she tries to work or donate for charitable causes, the paparazzi tracks her down and takes out its own conclusions. Lindsay stated that she is over with her wild partying days, but whenever she intends to do charitable work, she is hounded by the paparazzi.
Tragedy troubles
Tom Cruise struggled to maintain his composure in a TV interview as he talked about John Travolta's son Jett's tragic death. A website reports that while on The View, the Valkyrie star was forthright as he addressed suggestions that the actors' Scientology beliefs could have impacted on the care given to Jett, who was known to suffer seizures.
Hate skinny club
Hollywood actress Emma Watson has revealed that she doesn't like skinny celebrities, as she finds their shape ugly. The Harry Potter actress stated that she is naturally slim, and does not intend to diet to become skinnier. "I don't think it's very pretty to be really, really, skinny; it's not inspirational at all for me. I'm lucky and I'm this size naturally," the Sun quoted Emma, as saying.
Freaking forties
France's first lady Carla Bruni was as freaked out as any other woman when it came to turning 40 recently. The model-turned-singer-songwriter had what she calls "one of those typical midlife things" on the eve of her birthday in December 2007, reports the Daily Express.
Biography leaflets
Pop singer Madonna might have dated troubled singer Bobby Brown in the beginning of her career, according to a new book about the former New Edition star Brown. The unauthorised biography of Brown written by Derrick Handspike titled Bobby Brown: The Truth, the Whole Truth and Nothing But... reveals that the romance between the two blossomed while they were both at the beginning of their careers and Madonna used to perform the opening act of New Edition shows.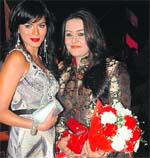 Amanpreet Wahi strikes a pretty pose
Glimpses of a party
The city witnessed a true blue Page 3 do on Saturday night
Red carpets rolled down in the city and the Page 3 purists got a reason to party hard and wild. The venue was Chandigarh Club, the occasion — first anniversary bash of Glimpse, a lifestyle magazine of Punjab. On a cold Saturday night, the temperature soared high with all the hardcore party animals bringing down the house with their upbeat spirit. Like a true Page 3 event, there were stars, socialites and scrumptious food. The evening started with the who's whos of Chandigarh making their red carpet entry.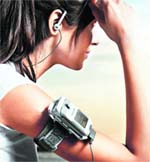 Musical bonding
It has users in 133 countries and connects them through Bollywood songs. SunoMusic, a website, allows surfers to choose their favourite numbers from an extensive database and send it to family and friends for free."Since our formal launch in June, SunoMusic has achieved tremendous growth and now entertains users in 133 countries. In November, the average time spent by each visitor on our website per session was 35 minutes.
Painful truth
Arthritis is becoming very common. Not just the old people, also the middle-aged people are suffering from it. That's not healthy news. However, a programme of moderate exercise can reduce pain and improve mobility.

Nutty business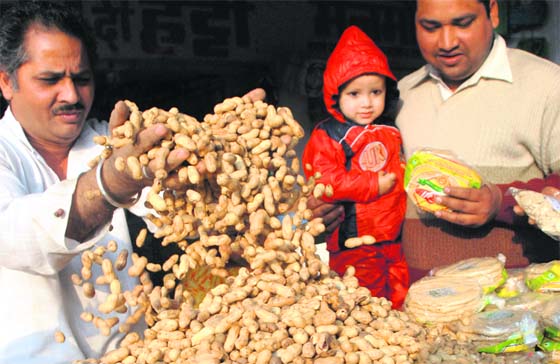 A girl child absorbs the excitement as her father buys the essentials for Lohri. Lifestyle Photo: Pradeep Tewari