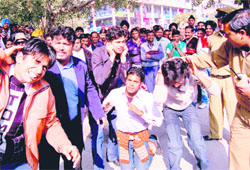 Artistes perform in play 'Dhara 294' at Sector 17, Chandigarh, on Thursday. Tribune photo: Manoj Mahajan
German Rape Case
Victim reaches city
Chandigarh, January 15
The 20-year-old German tourist, who was allegedly raped after being kidnapped by five youths from outside Hotel Taj in Sector 17 on September 28, today arrived at the same hotel to personally depose before a local court for trial tomorrow.
Need for separate Administrator
In 1966, under the Re-organization of Punjab Act, the city was declared to be a UT to be administered directly under Union Ministry of Home Affairs by appointing the Chief Commissioner. It continued till the change took place in 1980s during the days of terrorism in Punjab. Over a period of two decades, there has not been any hue and cry as is now to bring the city's governance in its original status of the Chief Commissioner.



UT to get tough with officials 'overstaying' on sensitive posts
Chandigarh, January 15
There is bad news for the UT officials overstaying at the sensitive posts for more than the stipulated period of three years prescribed by the Central Vigilance Commission (CVC).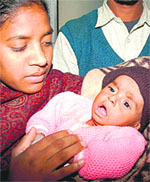 Rare heart surgery on 3-month-old at PGI
Chandigarh, January 15
Parents of a three-month-old baby from Hisar heaved a sigh of relief when the newborn got a new lease of life after the successful operation for a congenital heart disorder "Transposition of great arteries" (TGA) at PGI here.





Three-month-old baby Rajat, who was operated for a congenital heart disorder at the PGI. Tribune photo: Manoj Mahajan
Youth dies at GMSH
Family accuses docs of negligence
Chandigarh, January 15
The family of a Home Guard volunteer, who died at the Sector 16 Government-Multi Specialty Hospital (GMSH) today during treatment, accused the doctors of negligence.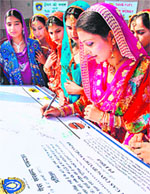 'Save oil, save life'
Mohali, January 15
Oil and Gas Conservation Fortnight, 2009, was inaugurated by Principal Secretary, Food and Civil Supplies, R.P.S.Pawar, at NIPER here today. Addressing a gathering, Pawar said 70 per cent of oil had to be imported to meet the growing demand and this cost the nation Rs 2,72,699 crore.




Girls put their signatures on a board reading "Save Fuel yaani Save Money" during the Oil and Gas Conservation Fortnight-2009 function at NIPER, Mohali, on Thursday. Tribune photo: Vicky Gharu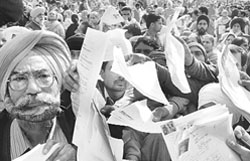 Suvidha camp draws huge crowd
Mohali, January 15
The "unwilling" 'sarkari babus' were today eager to address the queries of the visitors and help them in getting a ration card, driving licence, affidavit attested, copies of mutation and a number of other sub-divisional-level works.

People jostle to get their forms attested from an official during the suvidha camp in Mohali on Thursday. Tribune photo: Vicky Gharu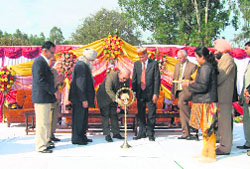 Raising day celebrated
Chandigarh, January 15
The TBRL, one of the armament laboratories of the Defence Research and Development Organisation (DRDO), celebrated its 42nd Raising day at its range at Ramgarh near here today.


Dr Satish Kumar, Director, lights the lamp on the occasion of 42nd Raising Day of TBRL in Ramgarh near Panchkula.
Army Day celebrated
Chandigarh, January 15
Paying tributes to the valiant soldiers of the Army who laid down their lives for the country, Lt Gen AN Aul, Chief of Staff, HQ Western Command, laid a wreath at Veer Smriti, the Command War Memorial, at Chandimandir today to commemorate the Army Day. Many senior officers, JCOs and other ranks were present to pay homage on the occasion.
Single-window system at defence accounts
Chandigarh, January 15
A "Single window clearance system" was inaugurated in the office of the Principal Controller of Defence Accounts, Western Command, here today. The system would substantially reduce the processing time of cash requisition, from few days to few hours only. Inaugurating the system, Bulbul Ghosh, Controller General of Defence Accounts, described this as a step forward towards customer satisfaction. — TNS
Office-bearers elected
Mohali, January 15
The Residents Welfare Association, Phase 3-A, SAS Nagar, elected its office-bearers at a general body meeting held here. Bachan Singh Bal was elected chairman of the association while Kulwant Singh and Gurmukh Singh were chosen president and general secretary, respectively.


Winter school workshop opens
Mohali, January 15
To promote excellence in technical education, NITTTR conducted a five-day winter school workshop at SSIET, Dera Bassi, Mohali. Chairman of Sukhmani Group Prof Avtar Singh welcomed experts, namely Dr SC Laroiya and Dr Gupta from NITTTR, here today.
PU to register student bodies
100 members mandatory to contest polls
Chandigarh, January 15
To streamline the electoral process on the Panjab University campus, the authorities have decided to register the student bodies.
High drama by student body
Raises voice against challans that were never issued
Chandigarh, January 15
The PUSU today staged dharna at PU, in which they demanded that the order of the authorities to wear helmets be revoked. The protesters said it was causing inconvenience to the students.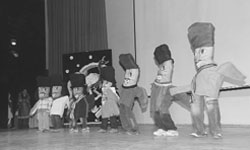 Annual function held at Shivalik
Mohali, January 15
The annual function of Shivalik Public School, Mohali, was inaugurated by Prof RC Sobti, Vice-Chancellor of Panjab University, on the school premises here today.

Students of Shivalik Public School, Mohali, present a puppet show during the annual function of the school on Thursday. Tribune photo: Vicky Gharu
Annual function held
Chandigarh, January 15
"Sankalp", a social society of students of GC 11, held its annual function in the college hall today. Sankalp volunteers urged the students to join the social work group so that awareness on various issues can be spread. The volunteers motivated the students to come forward through a power point presentation in which they shared their yearlong fulfilling experience of the social work.
School to get EDEXCEL board affiliation
Chandigarh, January 15
St Stephen's School, Sector 45, is all set to introduce classes XI and XII affiliated to EDEXCEL board from the coming academic session.