A British clinic has dramatically improved the success rate of fertility treatment using frozen embryos, promising improved pregnancy rates and offering hope to thousands of women who would otherwise face years of traumatic hormone therapy.
Freezing embryos has often been seen as a costly waste of time because its success rate can be about half that achieved with in-vitro fertilisation (IVF) using fresh embryos.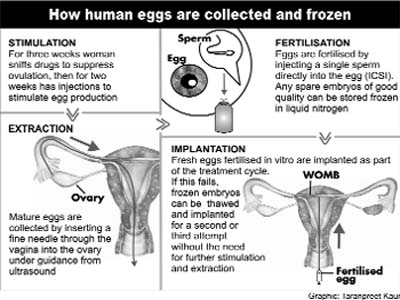 But the advances made at the Oxford Fertility Unit (OFU) will make freezing eggs a more attractive proposition for many couples. The procedure reduces the need for repeated cycles of hormone therapy and egg extraction, which can be unpleasant and result in serious side-effects such as polycystic ovary syndrome.
Many fertility clinics offer only limited services for freezing embryos left over from an IVF cycle. But a study at the OFU found that a woman could increase her chances of becoming pregnant from a single IVF cycle by 50 per cent if she stored any spare embryos that doctors deemed suitable for freezing.
The OFU's researchers monitored pregnancy rates among 1,290 couples having IVF treatment at the clinic, based at the John Radcliffe Hospital in Headington. They found that when women having IVF with frozen eggs were included, the overall pregnancy rate rose from 40 per cent to 59 per cent among women under 39, and from 31 per cent to 49 per cent among women over 39.
"The worst part of IVF for a couple is going through a fresh treatment with all the drugs, injections, costs and risk this entails," said Dr Tim Child, a fertility specialist at the clinic. "By looking at the success rate per egg collection, including the use of all spare frozen embryos created, we can clearly demonstrate the significant benefits for couples and clinics on focusing on running a good freezing programme."
Women having IVF treatment on the NHS should as a matter of routine be offered the chance to freeze their "spare" embryos instead of discarding them because it was safer and more cost effective than repeatedly using fresh embryos, Dr Child said. Findings from the study suggested that if embryo freezing was more common at NHS hospitals, its use might avoid the expense and, more importantly, the risks of over-stimulating the production of further eggs by hormones, which can lead to fertility complications.
"The whole aim of the study was to see to what degree using frozen embryos increases the chances of a couple having a baby," Dr Child added. "We showed that by using frozen embryos, compared with not using frozen embryos, we increased a couple's chances of achieving a clinical pregnancy. That is a result of a combination of us having a good success rate with a fresh cycle and good success rates with the frozen cycle. The data indicates that if the NHS is to fund fresh treatment, it should also fund frozen treatment because the embryos are there and already made."
Dr Child said Britain's IVF success rates could be improved if the NHS made a frozen embryo service more widely available. "The problem with many NHS trusts is that even if they do fund IVF they will only fund the fresh treatment, they won't fund the frozen treatment," he said. "But we found that by encouraging couples to use frozen embryos it makes the whole fresh treatment significantly more efficient."
The Oxford Fertility Unit uses standard laboratory procedures for freezing, storing and thawing eggs. A third of the women in the study produced IVF embryos that were of good enough quality to be frozen.
"We are very careful about selecting embryos for freezing. We make sure that if we do freeze embryos, they have a good chance of surviving both the freezing and the thawing," Dr Child said. "We also have a very meticulous freezing programme to ensure the embryos survive.
"There is certainly a cost involved in freezing spare embryos but the main cost is associated with fresh treatment. It costs about £600 to freeze embryos and about £700 each time to use them, compared with perhaps £ 4,000 for an IVF cycle — so it is significantly cheaper and also you are not wasting embryos."
Dr Child added: "It is really the fresh treatment — the collection of the eggs — that is the expensive, risky and time consuming part of it. Standard IVF involves about four weeks of drugs to produce eggs that we then fertilise in the lab to make embryos. We then put fresh embryos back into the woman and that gives us the highest chances of success, with fresh embryos. If there are spare, good-quality embryos remaining, we can freeze those for later use. That isn't new technology. We have been doing it for many years but success rates vary quite significantly between units regarding the chances of a baby resulting from the transfer of those embryos.
— By arrangement with The Independent, London