Goodbye: Bush
Ashish Kumar Sen writes from Washington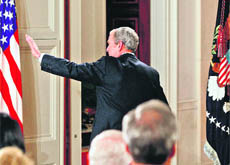 US President George W. Bush waves as he leaves the room after giving a farewell address to the nation, on Thursday in the East Room of the White House in Washington. — AP/PTI
President George W. Bush bade farewell to the American people in his final address to the nation on Thursday night saying if given the chance there are things he would do differently. But he was quick to point out that he had "always acted with the best interests of our country in mind."
Speaking before a friendly audience in the East Room of the White House, a sombre Bush insisted the "setbacks" he had suffered were not unusual for the presidency. "Like all who have held this office before me, I have experienced setbacks," he said, adding, "There are things I would do differently if given the chance... I have followed my conscience and done what I thought was right. You may not agree with some of the tough decisions I have made. But I hope you can agree that I was willing to make the tough decisions."
Opinion polls show Bush is leaving office with the lowest approval ratings in his eight-year presidency. The United States is embroiled in two wars, in Afghanistan and Iraq, and the economy has slumped into a recession. According to US government statistics, the unemployment rate in the country is at the highest point since World War II.
Bush sought to highlight the achievements of his wars. "Afghanistan has gone from a nation where the Taliban harboured Al-Qaida and stoned women in the streets to a young democracy that is fighting terror and encouraging girls to go to school," he said. Similarly, "Iraq has gone from a brutal dictatorship and a sworn enemy of America to an Arab democracy at the heart of the Middle East and a friend of the United States."
Conceding there is "legitimate debate" about many of his decisions, the president said, "But there can be little debate about the results. America has gone more than seven years without another terrorist attack on our soil."
Bush revealed how the attacks of September 11 have left a lasting impression on him. "As the years passed, most Americans were able to return to life much as it had been before 9/11. But I never did. Every morning, I received a briefing on the threats to our nation. I vowed to do everything in my power to keep us safe," he said.
Bush warned that while the nation is safer than it was seven years ago, "the gravest threat to our people remains another terrorist attack."
"Our enemies are patient, and determined to strike again. America did nothing to seek or deserve this conflict. But we have been given solemn responsibilities, and we must meet them. We must resist complacency. We must keep our resolve. And we must never let down our guard," he said.
With his administration under fire over its handling of the financial crisis, Bush said, "We took decisive measures to safeguard our economy. These are very tough times for hardworking families, but the toll would be far worse if we had not acted." On January 20, Barack Obama will be sworn in as the 44th president and the first black leader of the United States. Bush wished his successor well. "Standing on the steps of the Capitol will be a man whose history reflects the enduring promise of our land. This is a moment of hope and pride for our whole nation. And I join all Americans in offering best wishes to President-elect Obama, his wife Michelle, and their two beautiful girls," he said.