Wings of hope, flight of dreams
Farmers around Sahnewal airport are waiting for the day it becomes functional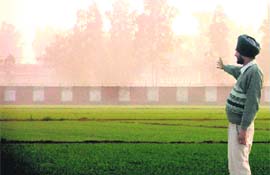 THE global economic slowdown may have affected the real estate business in this region, but farmers of Anandpur and Khakat village near the Ludhiana Airport at Sahnewal are upbeat. Once domestic flights start from the airport, their land would virtually turn into a goldmine. The state government's announcement that the airport would soon be functional has sent out a wave of cheer among scores of farmers.
LAND OF PROMISE: A farmer shows his agricultural land touching the boundary wall of Ludhiana Airport, Sahnewal.
TREND MILL
Gateway to style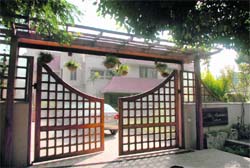 The main gate is an indicator of things to come. Like first impressions, make it special, writes SAURABH MALIK. Read on to know the latest trends & how to modify existing gates
YOUR new house has risen from the debris of the old. Blank walls have surrendered to gables. Flat roofs have paved way from slanting tops. Even the front boundary wall wears a flamboyant coat of paint. But what's this: The gate still has the rickety, dull black frame?
Realty loans
Banks tread with caution
BANKS have started reassessing the value of properties against which loans have been granted out of fear of rising non-performing assets. Bankers are worried that the fall in real estate prices could impact their risk valuation, if asset prices continue to fall. Housing loan outstanding as on December 2008 amounted to Rs 2.78 crore and constituted 11 per cent of all bank loan outstandings.
GREEN HOUSE
Winter Wonderland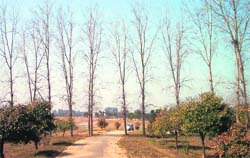 Peach, pear & plum trees are no longer restricted to the hills. Just be sure you buy a sapling of the variety meant for the warmer plains. And, this is a good time, says Satish Narula
NATURE is supreme. This is evident in the form of its furies, vagaries and unaddressed challenges. But, nature is kind, too: It has provided every living being with certain safety plugs.
Tax tips
Buy tax-saving bonds


Q. My father bought a house in 1977 for Rs 1.5 lakh and after his death in 2003, it was transferred in my name according to the will. The house will be sold in February 2009 for Rs 34 lakh.
What will be the index cost price of the house?
What will my tax liability be?
Kindly suggest ways to save tax.
— Rohit Mehra