This Above alL
He couldnít have cared less
Khushwant Singh

GHALIB was well aware of what people said about him behind his back:
Banaa hai shah a musaahib;
Phirey hai itraata;
Verna shahr mein Ghalib kee aabroo kya hai? (Since he became a companion of the King, he struts about like a peacock; otherwise he is like everyone, and his worth is nothing).
During his lifetime he had many critics. They criticised him for being obscure and composing couplets which no one could comprehend. Normally, his ghazals follow, as all ghazals should, a rigid pattern of rhyme and metre, but no single theme.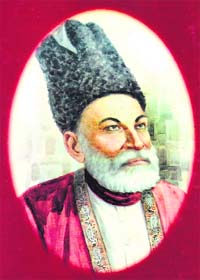 Mirza Ghalib also wrote couplets aimed at his critics.
However, at times he also composed ghazals in which one couplet did have a bearing on the one that followed. I give one instance where the second is an elucidation of the first:
Mehkashaan! Khumey meh munh say lagaaye hee baney;
Ek din gar na hua hazm mein saki, na sahee (Drinkers, it is only when your lips touch the goblet of wine, you know what is in it; if there is no wine-server one day, what does it matter? So be it).
And then follows a couplet aimed at his critics:
Na sataish ki tamanna, na silay ki parvah;
Gar nahin mere ashaar mein maanee, na sahi (I desire not praise; for rewards I donít care a bit; if my verses do not have meanings, so be it).
Kapil Sibal on 2008
Kapil Sibal, Cabinet Minister, penned his inner thoughts on the tragic events of last year. He entitled his longish poem ĎRetaliateí. I reproduce it in full:
I feel entrapped, just like you do;
You by your acts, and I by you;
You target me, yet you are blind;
Product of an imprisoned mind;
Your freedom comes, with your last breath;
For me, when I escape from death;
No questions asked, when you will die;
Those mourning me, will question why;
Evil triumphs, snuffs out the flame;
Our answers are, always the same;
Have fortitude, need to be strong;
Weíll find out why, and what went wrong;
Engrossed in these, macabre thoughts;
Saw him fire, two lethal shots;
My neighbour slumped, limp by my side;
Awaited, winced, no where to hide;
Closed my eyes tight, prayed silently;
The next one might, be meant for me;
Each moment held my destiny;
Amidst this dance of savagery;
Get up and move, stand by the wall;
Shaken by his rough, rasping call;
Felt death shuffle, with slothful moves;
We dragged ourselves, with bloodstained shoes;
Lined ourselves up, against the wall;
Wanted to make, just one call;
To tell you that, all roads are blocked;
Iíll miss you till, my heartbeat stops;
Tell kiiddos, that I wonít be there;
To help them walk, ahead with care;
I never knew, at death Iíll face;
Bullets, and not a warm embrace;
Daring to look, I saw him smirk;
Knew that he soon, would go berserk;
They laughed as if, this was a game;
And mockingly, gave it a name;
Called it ĎNine-Pinsí;
Ready to fall their, weapons aimed;
To make the call;
From one side his, comrade would shoot;
From the other end, he will follow suit;
I heard the sound, of gunshots when;
I fell, before the count of ten;
Thought I was dead, yet was surprised;
Lay still, buried, opened my eyes;
The sounds of boots, peels of delight;
Their trophy was, this deathly sight;
As I passed out, felt someone kick;
Faintly remember, a cameraís click;
Felt trapped, in Satanís vile embrace;
Confronted death, right in the face;
Wondered if I was, still alive;
No reason for me, to survive;
He leaves this choice, to those who kill;
Comfort ourselves, as being Godís will;
This terror strike, was not His call;
When they should those, beside me fall.
Never fail
Banta came home drunk and asked his son Ghanta about his examinations. Ghanta: Papa, Iíll have to stay in this class for one more year. Banta: Koi baat nahin, saal lagey ya teen saal, magar fail mat hona (You may spend two years or three in this class, but donít fail).
ó (Contributed by JP Singh Kaka, Bhopal)