In the business of glory
A soaring Sensex and the boom in Bollywood saw corporate houses and banks lining up to finance films. Though the economic downturn has caused a dip in the fortunes of tinsel town, all is not lost yet, reports Shiv Kumar from Mumbai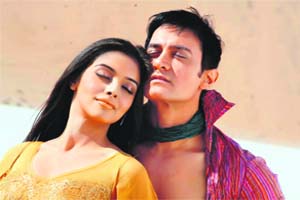 Aamir Khan-starrer Ghajini has garnered nearly Rs 50 crore in the international market
NEARLY two decades ago Amitabh Bachchan was perhaps the first person who began the 'corporatisation' of Bollywood when he launched Amitabh Bachchan Corporation Limited with himself as the brand mascot. It turned out to be one of the most spectacular failures in India's film history that nearly bankrupted the superstar. This setback was a major deterrent for others, who may have wanted to follow suit.
But in the recent years, a boom in the film business saw banks, major corporate houses, and international production studios eager to fund films. If one takes a casual look at the some of the latest releases featuring big stars like the Bachchans, the Khans, Akshay Kumar et al, nearly every movie has a corporate venture backing it.
India's major business houses, including the venerable Tatas, the Mahindras, the Ambanis (Anil's companies) and a whole new breed of businessmen have turned film producers due to the easy funding from banks and the market.
Sensex setback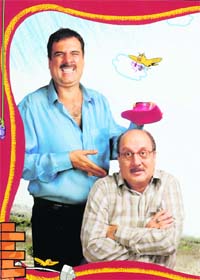 UTV finds small-budget productions like Khosla ka Ghosla can recover money
However, the prospects of an economic recession have sharply dulled appetite of the corporate sector. Only a handful of cash-rich players are still in the field after the sensex plummeted last year.
The Tata Group, which was among the first to test the waters when its group company Tata Infomedia produced Aetbaar more than five years ago, left the business after the movie sank without a trace. After making a few grand announcements the group divested the subsidiary entirely to pursue other opportunities.
But Tata's failure at the box office did not really dull the appetite of other A-listers in the stock exchanges. Mahindra and Mahindra recently announced that a film produced by one of its group companies is ready for release. Titled Mumbai Chaka Chak (Sparkling Mumbai), the comedy flick focuses on the lighter side of a road sweeper's life in the country's financial capital.
Indranil Chakraborty, who heads the Mahindra's ventures in films, says films would be where television was 15 years ago. "This is a business we want to be in and we want to make good films."
The cash-rich company, however, has been quite cautious in its Bollywood foray. Despite the changed market scenario, it has not announced any changes in its plans — at least not yet.
The other big player to enter filmdom happens to be Anil Ambani. The flashy tycoon, who hails from a conservative Gujarati family, is said to have broken ties with his elder brother over, among other things, his desire to venture into the tinseltown. Married to former actress Tina Munim, Anil's ventures in the entertainment industry include movie theatres, processing laboratories (Adlabs), film rental and production and direct-to-home (DTH) satellite transmission via Reliance Big Entertainment.
Today, Adlabs processes nearly two-thirds of all Hindi films made in India. The company has now announced that it would invest as much as a billion dollars in the production and distribution of films in India.
Big dreams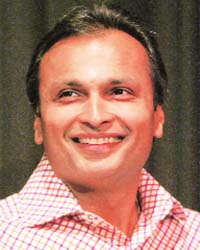 Anil Ambani
Anil Ambani had set his sights even higher with his companies buying chains of movie theatres across the US. The Reliance Big Entertainment had struck a deal with Hollywood star filmmaker Steven Spielberg. Under the deal, the Anil Ambani's company is funding Spielberg to the tune of $550 million under which DreamWorks promoted by the Hollywood director would be disinvested from Paramount and taken private. The Reliance Big Entertainment was to hold a 50 per cent stake in DreamWorks. However, due to global recession, the venture has been buried deep in the cold storage.
The Reliance Big Entertainment-DreamWorks alliance is expected to roll out its first Hollywood venture some time in 2011. This is several months behind the initial schedule. Under the original plan, the venture was to produce six films annually from 2009 onwards.
However, now the plan is in cold storage as the younger Ambani is working at consolidating his media empire. The plan includes more action in the distribution sector with the company taking a call on potential winners. Reliance Big Entertainment has already scored a winner with Aamir Khan-starrer Ghajini, which has been released successfully abroad. The buzz has it that Ghajini has garnered nearly Rs 50 crore internationally for the producers. Despite the film's success, many corporate players in Bollywood, who had pumped in huge amounts of money signing up stars for mega-budget productions, are undergoing a rethink. "Only productions that are on the floor for which signing amounts have been already paid to the stars are going ahead," confirmed an industry analyst.
According to the grapevine, companies like UTV, which had entered the sector with a bang, are now looking for ways to conserve cash. The company recently exited the home video business, hiving off its entire library to Moser Baer in return for royalties. The company may also look at small-budget productions, which can recover its money, say sources.
The company is also said to be scaling down its plans in the television space. UTV has already renegotiated prices for two films on the floor starring Irrfan Khan and more such corrections are likely across the industry.
Recovery mode
Earlier, UTV, the company promoted by stage director Ronnie Screwvala and Rupert Murdoch's Star Television, had signed up Akshay Kumar for a one-film deal worth more than Rs 71 crore. According to the trade buzz, the project is said to have been shelved.
Corporate producers had said at the height of the bullish market that stars needed to be paid such high amounts because new producers were finding it difficult to rope in the A-list stars like Shah Rukh Khan and Aamir Khan and Akshay Kumar. But now even the stars are openly talking of taking a pay cut. Some like Sanjay Dutt, who admit to making good money during the boom times, are now prepared to work for less in troubled times.
However, many of them are said to be demanding a share of the profits like co-production rights, which ensure that they get to share revenues from television, cable and home viewing rights. Shah Rukh and Aamir Khan have gone on record saying they will only act in films made by their own production houses. That leaves several top-notch filmmakers without a star name to sell the movie.
To add to the woes, films starring B-grade film stars have almost lost the market after distributors began backing out of deals. Several films have been completed and are awaiting release. The list includes several big names like Suneil Shetty's Red Alert, Right Ya Wrong featuring Sunny Deol and Irrfan Khan and Aashayein starring John Abraham.
Hope on horizon
This is in sharp contrast to last year and the year before that. According to the Federation of Indian Chambers of Commerce and Industry (FICCI), which produces an annual report on the country's entertainment sector, as many as 1,146 films were made in India in 2007. The body also organises the prestigious FICCI-Frames, which is an annual interface between the industry and the filmmaking fraternity.
The body estimates that the introduction of newer technology, production techniques and marketing would help the industry grow to $ 3.9 billion by 2011.
According to Amita Sarkar, who heads the entertainment division at FICCI, the granting of industry status to film production in 2002 has helped to bring in the corporates. Creative persons, who had to face severe financial shortages in the past, can now avail of financing from various financial institutions, says Sarkar.
Directors say the entry of companies had allowed them access to easier finance while earlier they had to take the help of alternative sources, including the underworld. "They pay on time and always by cheque," says producer Vikram Bhatt, who has been backed by several corporate houses in the past.
The entry of the corporate sector also helped Bollywood to look towards foreign shores for growth. Indian films are now finding their ways to countries like Pakistan, Indonesia and the Middle East via the legal channels as corporate producers tie up with distributors and exhibitors.
However, in cases where the corporate players were smart enough to produce films within a budget, they have scored. Small-budget films that easily turned a profit include some like Khosla ka Ghosla and Life in a Metro backed by UTV.
This fact has not been lost on international studios. Hollywood has begun to take notice with major players like Sony Pictures Entertainment and Warner Brothers tying up with Indian film producers to make Hindi films. Sony Pictures's first Indian venture Saawariya was released in 2007. Walt Disney and Yash Raj Films will release three animation movies soon.
But it is the Indian companies who seem to have lost their appetite for filmmaking. Some of them are said to be in talks to sell out to big international studios. The grapevine has it that at least one of the companies may be taken over by a foreign studio. Hollywood studios are said to have pumped in as much as Rs 1,200 crore to pick up stakes in various Indian film companies over the past few months.
Banking on showbiz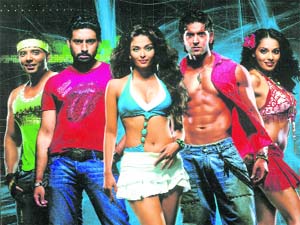 EXIM Bank has financed Dhoom-2
AMONG the major players who are entering the business include banks. Shedding their conservatism, banks have taken to bankrolling films in a big way. Since banks may take up to 5 per cent of their total exposure to one sector, several banks have lined up with funds. RBI norms state that film producers with a track record of five years may one be eligible for receiving funds. Producers are also required to ensure that there are additional revenue streams in addition to bank funds.
The biggest banks, who lend to filmmakers include IDBI and EXIM Bank. At the FICCI Frames-2008 media convention, John Matthew, Chief General Manager, EXIM Bank had said the bank lends money to film makers on the condition that the money is returned before the release of the film. "Our exposure is only towards the completion of the film since the film maker is required to tie up other sources of funds prior to release," Matthew said. The bank is further safeguarded since companies like Infinity Film Completion Services, sponsored by GIC (General Insurance Corporation of India) guarantee completion of films. So far EXIM Bank has lent more than Rs 300 crore to filmmakers and has financed films like Dhoom-2, Salaam Namaste, Veer Zaara etc. YES Bank, too, has begun lending to film and television producers and distributors.