'I don't set targets'
After winning an unexpected bronze in the Beijing Games, Sushil Kumar is back to work.
Avishek Mukherjee chats up the wrestler on life after the Olympics
It has been a great year for you!
Yes indeed it has been a great year for me. At the start of the year I never thought it would end like this. For me the Olympic medal was the best present I could have given myself and having done it this year, it will be the most memorable moment in my life. I am also grateful to Hanumanji and my coach Mahabali Satpal Ji, without whom this wouldn't have been possible.
Driving force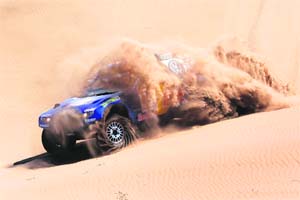 Volkswagen driver Carlos Sainz of Spain during the 10th stage of the Argentina Dakar Rally 2009 between Copiapo and Copiapo, Chile — Photo AP/PTI
A summer of aces
Vaibhav Sharma
AFTER a year that saw the world of tennis go flipping through the prism of predictability, its time again to hit the court, as the first Grand Slam of the year, the Australian Open, gets ready to unfold from January 19. The crème de la crème of world tennis will battle it out Down Under.
Cuba's golf revolution
Leonard Doyle
MARLENE Negrene stood on the first tee of Havana's golf club, driver in hand and looking forward to a pleasurable nine holes to be followed perhaps by a English at Havana's prestigious university. So fond is Negrene of Havana's only golf course that she quit her university job to become the club's caddy master, an unusual career move even by Cuban standards.