Obama takes slow train to power
Ashish Kumar Sen writes from Washington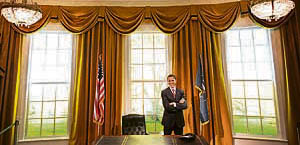 A wax replica of President-elect Barack Obama in a mock-up of the White House's Oval Office, at Madame Tussauds in London. Obama will take up his official title as President on Tuesday, January 20. — Reuters
In 1861, Abraham Lincoln's train rolled through Philadelphia on its way to Washington when he was inaugurated president. On Saturday, Barack Obama embarked on a similar journey to pay tribute to Lincoln and the founders of America.
"We are here to mark the beginning of our journey to Washington," Obama told a crowd at Philadelphia's 30th Street Station.
"This is fitting because it was here, in this city, that our American journey began. It was here that a group of farmers and lawyers, merchants and soldiers, gathered to declare their independence and lay claim to a destiny that they were being denied," Obama said. Philadelphia served as the first capital of the young United States of America in 1776.
Lincoln's journey began in his hometown of Springfield, Illinois, on February 11, 1861, and went through dozens of cities, including Indianapolis, Cincinnati and New York City before reaching Philadelphia on February 21.
Like Lincoln, Obama hails from the state of Illinois. Obama's admiration for the former president is evident from the theme of inaugural balls and events planned over the next couple of days in Washington. On Saturday, Obama would kick off the festivities at a concert at the Lincoln Memorial in Washington.
Obama is accompanied by his wife, Michelle, and daughters Malia and Sasha on the train ride to Washington. The family would pick up the next vice president, Joseph R. Biden Jr. and his wife Jill at the train station in Wilmington, Delaware, for a journey Biden did every working day during his three-decade term in the US Senate.
The train will stop in Baltimore before arriving at Washington's Union Station on Saturday evening.
Security agents had learned of an assassination plot against Lincoln in Baltimore. He was smuggled through the city in the middle of the night and slipped into Washington in a disguise.
There will be no disguises for Obama. Security along the 137-mile route will be extreme with the Secret Service providing a protective blanket through the air, ground and water.
Obama will make history on Tuesday when he is sworn in as the first black president of the United States. He will take the oath on the same Bible Lincoln used at his swearing-in.
With the country in the middle of two wars and the economy mired in a recession, Obama is mindful of the enormous challenges that await him. "Only a handful of times in our history has a generation been confronted with challenges so vast. An economy that is faltering. Two wars, one that needs to be ended responsibly, one that needs to be waged wisely. A planet that is warming from our unsustainable dependence on oil," Obama said.
"And yet while our problems may be new, what is required to overcome them is not. What is required is the same perseverance and idealism that our founders displayed. What is required is a new declaration of independence, not just in our nation, but in our own lives-from ideology and small thinking, prejudice and bigotry-an appeal not to our easy instincts but to our better angels."
He said the reason he launched his presidential campaign two years ago was "the belief that the most fundamental American ideal, that a better life is in store for all those willing to work for it, was slipping out of reach. That Washington was serving the interests of the few, not the many. And that our politics had grown too small for the scale of the challenges we faced."
"But I also believed something else. I believed that our future is our choice, and that if we could just recognise ourselves in one another and bring everyone together-Democrats, Republicans, and Independents, north, south, east and west, black, white, Latino, Asian, and Native American, gay and straight, disabled and not-then not only would we restore hope and opportunity in places that yearned for both, but maybe, just maybe, we might perfect our union in the process," he said.