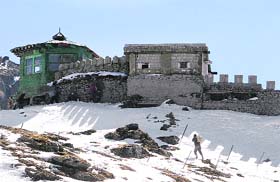 A labourer carries a sandbag near the India-China trade route at Nathu-La, 55 km north of Gangtok, on Saturday. The Nathu-La mountain pass, known as the old silk route, lies at an altitude of 14,200 feet bordering between India and China and is covered with snow throughout the year. — Reuters
Lankan Tamils are suffering due to LTTE: Jayalalithaa
Chennai, January 18
Opposing pleas by the DMK and its allies for the Centre's intervention in Sri Lankan conflict, AIADMK supremo J Jayalalithaa yesterday said the island Tamils were suffering due to the LTTE, which was "using them as a shield".
Rift in AIADMK front over Tigers
Chennai, January 18
Slamming AIADMK supremo J Jayalalithaa for her charges against the Tigers, CPI state secretary D Pandian today asked her to prove allegation that the LTTE was using Tamils as their shield.
Terror of cyber crooks
New Delhi, January 18
After the massive terrorist attacks in Mumbai (November 26-29), India has been advised to be cautious about 'cyber Islamic terrorists and spies.' America's Federal Bureau of Investigation (FBI) has warned India and other nations, which are facing a massive terrorism problem, to be on a high alert about cyber security, a breach of which can be more damaging than a Mumbai-type terrorist attack.
Swat valley turns into terror den: Reports
New Delhi, January 18
Adding to the list of areas going out of bounds for the Pakistani authorities, the picturesque Swat valley has turned into a hotbed of terrorists and religious extremists, according to media reports.
Cong shifts to poll gear in Assam
Guwahati, January 18
The ruling Congress in Assam has got into the election gear to prepare the party workers and leaders for the forthcoming Lok Sabha elections even as the opposition parties in the state are still trying to finalise poll alliances.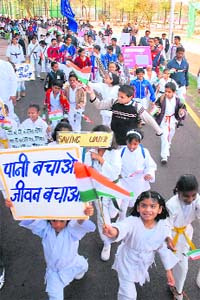 Karate students take out a rally while campaigning for water conservation in Bhopal on Sunday. — PTI
4 crore Indians carry genetic risk of cardiac arrest: Study
New Delhi, January 18
Every 25th Indian carries a mutant gene which makes the person vulnerable to an "almost guaranteed" risk of sudden cardiac arrest, results of a study published today suggest.
Reddy meets Cong leaders over Telangana
New Delhi , January 18
With almost all the parties in Andhra Pradesh virtually agreeing to the creation of separate state of Telangana, the Congress high command also seems to have suddenly woken up to the Telangana issue on the eve of general elections.
Advani's blog shines with Modi's 'vibrancy'
New Delhi, January 18
A day after Narendra Modi backed LK Advani as BJP's prime ministerial face, the latter has showered praises on the Gujarat Chief Minister for consistently steering the state towards vibrancy.
Kerala to showcase Pooram in R-Day parade
New Delhi, January 18
Kerala will present one of its most colourful festivals - the Pooram - at the Republic Day parade, showcasing the vibrancy of the post-summer harvest celebrations.
XEN Killing
Property of BSP MLA's wife attached
Lucknow, January 18
The police today attached the property of absconding Vibha Tiwari, wife of BSP MLA Shekhar Tiwari, main accused in the murder of PWD engineer Manoj Kumar Gupta in Aurraiya last month.
PM visits RTO to get licence renewed
New Delhi, January 18
Prime Minister Manmohan Singh today chose to go to a regional transport office (RTO) here to get his driving licence renewed. His wife Gursharan Kaur, who accompanied him, also got her licence renewed.
Vision-corrected aspirants now stand a chance in IAF
New Delhi, January 18
Aspiring to join the Indian Air Force (IAF) as a pilot but have vision probl ems? Don't lose heart for you may be eligible to commander the force's helicopters or transport planes.
Catholic arm to invest in good governance
Bangalore, January 18
Caritas India, the development arm of the catholic church in the country, is launching a nationwide programme for good governance.
Cops hope to seize more ULFA arms trove
Guwahati, January 18
High in the spirit in the wake of yesterday's recovery of huge cache of arms and ammunition belonging to the banned United Liberation Front of Assam (ULFA) from Sadiya in Tinsukia district, the Assam police hopes for more such recovery in near future.
SC to check damage of property during stirs
New Delhi, January 18
Agitation leaders, rather than their supporters, should be held responsible for the damage or destruction of property, while the electronic media should have self-regulation for covering events like strike, according to two Supreme Court committees.
'Work of art with Indian heart, soul'
Mumbai, January 18
"Slumdog Millionaire" does not focus on the poverty in Mumbai alone or "talks down" to anyone but is a brilliantly-crafted story with an "Indian soul", according to one of the producers of the Golden Globe winner which has drawn some flak for its depiction of slum life.
Rs 19.75 lakh seized from passenger
Chennai, January 18
Air customs has seized Rs 19.75 lakh and 650 Singapore dollars from a Singapore-bound passenger at the international airport here.
4 live bombs found in Ahmedabad
Ahmedabad, January 18
Four country-made live bombs were found by the Gujarat police today in Karanj area here, police sources said. "We have recovered four live bombs which are being defused," a police official of Karanj area told.
Close shave for Chatterjee, others as flight aborts landing
New Delhi, January 18
Lok Sabha Speaker Somnath Chatterjee and other passengers onboard a Jet Airways flight had a narrow escape this evening when their plane had to abort landing and take a "go-around" after the pilot spotted another aircraft on the runway.