Zirakpur-Kalka Highway
Centre sanctions funds for widening
Chandigarh, January 19
The last hurdle in the way of widening the Zirakpur-Kalka highway has been removed.
Admn aims at dustbin-free sectors
Chandigarh, January 19
With a view to streamlining the garbage collection network in the city, the administration has endeavoured to involve residents of the respective sectors.
Traffic rules a casualty on roads
Chandigarh, January 19
In the backdrop of traffic violations in the city, chaos rules the city roads with the traffic police failing to restore order. In the first three weeks of this year, seven persons have died while at least 24 road accident victims have sustained serious injuries in the city.



On the wrong side of law: Youths riding a motorcycle without wearing helmet take a wrong turn; and (right) a policeman rides a bike on a cycle track in Sector 20, Chandigarh. Tribune photographs
Classmates, teachers in shock
Chandigarh, January 19
The death of 14-year-old Lakshmi, a class-VIII student of Government Model High School (GMHS), Sector 40, has left her classmates and school authorities in a state of shock.
Chickenpox: Doctors visit colony
Mohali, January 19
The district health authorities failed to react promptly when cases of chickenpox were brought to the Civil Hospital from a slum area here even as two children died subsequently in the locality.
Even after two big fires in nine years at furniture market
Administration refuses to budge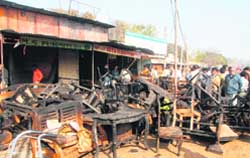 Chandigarh, January 19
Two major fires in the illegal furniture market in Sectors 52-53 in the last nine years have failed to wake up the Chandigarh administration from its slumber and make it spare a thought for the removal the encroachment on the prime land.


One of the shops that was gutted in a fire at furniture market in Sector 53 on Sunday. A Tribune photograph
Rehri markets sit on powder keg
Chandigarh, January 19
Devastating fire destroying rehri markets a number of times in the past notwithstanding, most of these still continue to defy fire safety norms.
Acquitted candidate found unfit to be cop
Chandigarh, January 19
While politicians with criminal background can contest in elections, the stigma of a trivial case registered against a person was enough to "disqualify" him from the recruitment for constable of the police.
Two orphan girls sent to Nari Niketan
Panchkula, January 19
Two girls from Bihar were sent to the Nari Niketan after they were found roaming near Mouli village at Barwala by the local police here today.
Slowdown takes toll on realty
Chaandigarh, January 19
Global meltdown has begun to cast its shadow on the realty business in the region. Though the realtors and builders have so far managed to hold on to the high property prices in the tri-city, the city's periphery and the sectors surrounding the periphery have started seeing a correction in prices.
More grant for akademis
Chandigarh, January 19
Adviser to the UT administrator Pradip Mehra today chaired the meeting of the city arts council.
'Guru Manyo Granth' depicts religious relevance
Chandigarh, January 19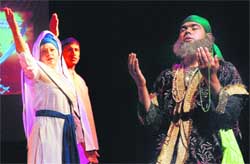 "Blessed are those whose spell of ignorance is broken, truth has revealed itself in their soul, their illusion is over and knowledge absolute shines within," this divine utterance of Guru Nanak Dev, elucidating the ultimate achievement for a mortal being forms the basic concept of the theatrical production. 'Guru Manyo Ganth' staged at the Tagore theatre here today.
Artistes of UK's Guru Nanak Sikh School and Punjabi Theatre Academy perform at the Tagore Theater in Chandigarh on Monday. Photo: S.Chandan
No one to clean Dasehra grounds
Mohali, January 19
Dasehra grounds, a venue of public functions in Phase VIII here, have been neglected as three days after Punjab Chief Minister Parkash Singh Badal held a vikas yatra rally at the venue, waste paper plates and other garbage lies scattered around.
'Expanding' P'kula not equipped to fight major fire
Panchkula, January 19
While the Haryana Urban Development Authority (HUDA) has removed the restriction over the height of buildings in the town, the fire brigade department here is yet to gear up to meet any exigency.
Zirakpur MC gets Rs 2-cr grant
Zirakpur, January 19
"Planned development of the town is my first priority," said Cooperation Minister Capt Kanwaljit Singh while presiding over a function in Harmilap Nagar, Baltana last evening.
Tabla concert regales audience
Chandigarh, January 19
The rhythm in Indian music be it classical, light or folk, is of paramount importance. The point got substantiated as Dr Mahendra Prasad Sharma of Benaras gharana recited Tabla at a concert organised by the Indian Council of Cultural Relations (ICCR) at the Randhawa auditorium, here today.
Home Secy reviews operations
Chandigarh, January 19
UT Home Secretary Ram Niwas today chaired a meeting regarding shifting of the operation of long-haul buses from ISBT-17 to ISBT-43 and other issues related to the new bus stand. Niwas directed Chief Engineer Krishanjit Singh to examine the issue of underground parking and conduct a viability study whether to undertake conventional parking mode or mechanical parking mode.
ewild wild web
Virtual Net parallel world
Letters
Governor system best


Sarv Shiksha Abhiyan projects reviewed
Chandigarh, January 19
A three-member committee of joint review mission visited various city schools today to review the ongoing projects under Sarv Shiksha Abhiyan.
GCG food court fails to woo students, faculty
Chandigarh, January 19
The repute of GCG-11 of being the favourite spot for food lovers has fallen prey to the college authority's ambitions to render a 'hep' makeover to the campus, as the swanky food court has failed to woo not only the students but also some of the franchisees.
Placement drive at Landran College
Mohali, January 19
NJ India, a company dealing in distribution of financial products and services conducted campus placement drive on the campus of Chandigarh Business School, Landran. The drive was open to students who are pursuing their MBA degree from CBS.
Goonj: GCM college best in play
Chandigarh, January 19
The third day of UIET (University Institute of Engineering and Technology) fest 'GOONJ' turned out to be a colourful show of creativity, intelligence and performance. Various competitions like rangoli, body painting were organised in the morning fun stage arena.
Conference on corporate governance
Chandigarh, January 19
An International conference on Corporate Governance was organised by GGDSD College, Sector 32, in collaboration with the University of the Fraser Valley (Canada) in the college seminar hall today.