M A I N N E W S
Countdown begins
Celebrations kick off as Obama readies for inauguration
Ashish Kumar Sen writes from Washington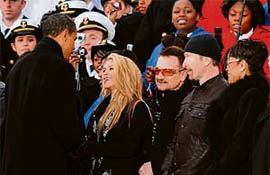 US President-elect Barack Obama talks with singer Shakira, standing beside Bono (centre), at the end of the "We Are One" concert, one of the events of Obama's inauguration celebrations, at the Lincoln Memorial in Washington. — AFP
Thousands of people from all over the United States filled in the spaces between the marble and granite memorials on the National Mall on a frigid Sunday for a party to kick off Barack Obama's inauguration celebrations.
Performers at the concert included Beyonce Knowles, Mary J Blige, Irish rock band U2, Garth Brooks, Sheryl Crow, Renee Fleming, Josh Groban, Herbie Hancock, Heather Headley, John Legend, Jennifer Nettles, John Mellencamp, Usher Raymond IV, Shakira, Bruce Springsteen, James Taylor, William and Stevie Wonder.
Indian American actor Kal Penn was among those reading historical passages. The others to do so were Jamie Foxx, Martin Luther King III, Queen Latifah and Denzel Washington. Gay bishop Reverend V Gene Robinson delivered the invocation.
Obama thanked his audience for "braving the cold and the crowds and travelling, in some cases thousands of miles, to join us here today."
Around 2 to 5 million people are expected to witness Obama taking the oath of office on the steps of the US Capitol at noon on Tuesday.
Obama sounded a somber note after the uplifting concert performances. "In the course of our history, only a handful of generations have been asked to confront challenges as serious as the ones we face right now. Our nation is at war. Our economy is in crisis. Millions of Americans are losing their jobs and their homes; they're worried about how they'll afford college for their kids or pay the stack of bills on their kitchen table. And most of all, they are anxious and uncertain about the future --- about whether this generation of Americans will be able to pass on what's best about this country to our children and their children," he said.
He warned that meeting any one of these challenges would not be easy. "It will take more than a month or a year, and it will likely take many. Along the way there will be setbacks and false starts and days that test our fundamental resolve as a nation," he said, lowering the bar for those who expect the country's first black president to perform miracles and lift them out of their present predicament.
Obama said: "There is no doubt that our road will be long. That our climb will be steep. But never forget that the true character of our nation is revealed not during times of comfort and ease, but by the right we do when the moment is hard."
In his brief remarks, uncharacteristic for a man who is notorious for his long-winded Senate speeches, Vice-president-elect Joseph R Biden Jr said, "Work is more than a paycheck. It's about dignity. It's about respect. It's about whether you can look your child in the eye and say, "Honey, it's going to be all right."
He said he has admired working men and women as he has travelled around the country and said, "We owe them the chance to go to work each day knowing they have the thanks of a grateful nation."
Monday is the birthday of slain civil rights leader Dr Martin Luther King Jr and Obama has declared the day one of national service.
London, January 19
Barack Obama is reportedly set to remind his fellow Americans of John F Kennedy's call for self-sacrifice along with a with a new "era of responsibility" in his inaugural speech. Obama may echo Kennedy's plea to "ask not what your country can do for you, ask what you can do for your country" in his address, which is expected to be heard by millions within Washington and around the globe.
According to new press secretary Robert Gibbs, the speech would be "heavily infused with this notion of responsibility and getting our country back on track", reports the Telegraph.
The final draft might also bank upon the ideas presented in landmark inaugural speeches in American history, including those of Lincoln, Franklin D Roosevelt and John F Kennedy, conveying a message of unity and hope but not without self-sacrifice.
William Galston, a former adviser to Bill Clinton said: "He has to provide a sense of direction. And I think part of that has to be a message that as a nation we have lived beyond our means.
"This is real opportunity for the new president to say we all went overboard, that this economic crisis isn't something that was just done to us by crooks, swindlers and fast-buck chasers, that to some extent we did this to ourselves.
"Then he has to say that we can dig our way out of this together. He has to capture that hope and fear Americans feel right now." America's first African-American to be elected President further faces the challenge to live up to soaring expectations of delivering what may become another milestone in the history of speeches.
Matt Bennett, a former deputy assistant in the Clinton White House said: "This will be the most consequential speech since Roosevelt's in the Great Depression and in the top two or three since Lincoln." — ANI