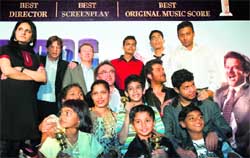 The cast and crew of 'Slumdog Millionaire' pose during a news conference in Mumbai on Tuesday. British director Danny Boyle's Golden Globe award-winning film will be released in India on January 23. — Reuters
Kalyan's Exit
BJP in damage control mode
New Delhi, January 20
The BJP tried to play down here today the impact of its vice-president Kalyan Singh and three party ex-MPs from Karnataka deserting the camp on the eve of general elections, claiming that Kalyan Singh was a spent force now and the three had already been expelled from the BJP.
Get going on minority panels, states told
New Delhi, January 20
The Uttar Pradesh State Minorities Commission has a whopping 21 members but only four are being paid. The rest have been forced into "voluntary service", courtesy lack of uniformity in the implementation of service and tenure rules for minority commission members across India.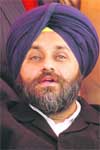 Aam aadmi, drugs on agenda: Sukhbir
New Delhi, January 20
Punjab's Deputy Chief Minister in-waiting Sukhbir Badal has the common man on mind as he prepares to take oath of office in Amritsar tomorrow. Corruption, he admits, is a huge challenge and would have to be weeded out for social and economic growth to register and sustain itself at all levels. Even before assuming charge, Sukhbir today said he would go all out to cut red tape in the delivery system for common man, and would not hesitate to implement fresh practices.
Pranab leaves for Kabul today
New Delhi, January 20
External Affairs Minister Pranab Mukherjee is rushing to Kabul tomorrow on a crucial visit as India and Afghanistan seek to intensify cooperation in combating terrorism sponsored by Pakistani elements in the two countries.
EC to discuss general polls
New Delhi, January 20
The Election Commission of India, as part of its exercise for preparation for the General Election, 2009, is slated to hold a series of reviews and start a consultation process during the first week of February. This is a prelude to the forthcoming general elections.
Punjab inks pact with UN tourism body
New Delhi, January 20
The United Nations World Tourism Organisation (UNWTO) and the Punjab Government signed an agreement to develop a master plan for tourism here today.
Brain-dead jawan saves three lives
New Delhi, January 20
Organs from a brain-dead Army jawan have saved three lives and restored vision for two. The multiple organ transplant was carried out by the Army Research and Referal Hospital here in the National Capital yesterday.
Armed Forces Pay
Decision on pending issues soon: Govt
New Delhi, January 20
Asserting that "sincere" efforts to resolve pay anomalies were being made, the government today assured the armed forces that it would soon take a decision on the pending issues relating to the Sixth Pay Commission.
Belgaum row rages on
Bus services between Maharashtra, Karnataka affected
Mumbai, January 20
The war of words between the politicians of Maharashtra and Karnataka over the status of Belgaum has spilled out onto the streets with violence breaking out in the border areas of both states.
Purohit main conspirator: Chargesheet
Mumbai, January 20
Nearly four months after the blasts at Malegaon, the police today filed a chargesheet that named Army officer Lt Col Prasad Purohit as the main conspirator, who provided the explosives, and Sadhvi Pragya Singh Thakur as the prime accused, who arranged for the men, who planted the explosives.
Coming: 29 more BSF battalions
Guwahati, January 20
Deployment of the Border Security Force (BSF) personnel along the country's western and eastern frontiers will get a massive boost with the Centre giving sanction for raising of 29 more battalions for the force.
Jaipur literary fest begins today
116 authors to participate
Jaipur, January 20
As many as 116 world famous authors, 20 interviewers and 30 performing artistes will participate in the Jaipur Literature Festival 2009, the largest of its kind in Asia.
13 schoolkids, teacher die in head-on crash
Jaipur, January 20
Thirteen schoolchildren and a teacher were killed and 26 were injured when a tempo in which they were travelling collided head-on with a truck on a national highway in Barmer district today.