Armour and aesthetics
The city has weapon lovers who prefer an antique sword or a splinter of a bomb to an M. F. Husain painting!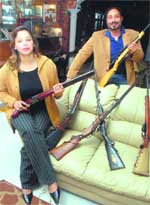 What happens when the mainstays of military combat find their place amongst Ming vases or fine antiques or the strokes of fine art displayed on the walls? Well, we have weapons that are being appreciated for their visual impact rather than their functional quality. Intricately designed swords or weapons with historical value find their place in home décor. And we have people for whom they are status symbols, a collector's item or just another passion. Kanwaljeet Singh with wife Aman — Photos by Vinay Malik/S. Chandan
| | |
| --- | --- |
| | |

China town to Hong Kong
Bollywood heartthrobs Akshay Kumar and Deepika Padukone have been nominated for the Best Actor and Best Actress category at the prestigious third Asian Film Awards, in an announcement. While Akshay was nominated for his action cum comic-caper Singh is Kinng, Deepika was nominated for her double role in Chandani Chowk to China, the official website said.

—
Deepika Padukone and Akshay Kumar
Awards & Aamir


Actor Aamir Khan, who has been giving award ceremonies a miss for years, turned up for the NDTV awards function, to receive the Indian of the Year award for his film, Taare Zameen Par. He was present with wife Kiran. "I do not hate award ceremonies and in fact missed the many funny things that happened there.
— Delhi Chief
Minister Sheila Dikshit (left) and actor Aamir Khan during NDTV 4th Indian of the year Award function in New Delhi
He's got the locks
Bollywood actor Sanjay Dutt will sport a completely different look in his forthcoming film Luck, thanks to celebrity stylist Aalim. Directed by Soham Shah, it marks the debut of Shruti Hassan, and other stars are Sanjay Dutt, Imran Khan, Mithun Chakraborthy, Danny Denzongpa, Ravi Kissen and Chitrakshi. The action sequences by Allan Amin is the highlight of the film. Sanjay says ''Soham is a very talented director and he has a very creative outlook. We both sat and discussed the look and I'm very happy that Aalim has styled me exactly as we envisioned.'' ''This is one of Sanju's most daring and dashing looks. It's a very different side locks with three triangles opposite each other. Sanju can carry off anything larger than life, his aura is really huge. He is looking really cool and sexy and will set a new trend with his facial hair,'' says Aalim Soham says, ''I wanted a look for Sanju sir, which he had never worn before. I designed a couple of looks on photoshop and Sanju suggested a particular style." —UNI
NEW RELEASES


The mystery unconnected
This Friday's flick Slumdog Crorepati and Raaz—The mystery continues will offer shades of horror and drama
Audio scan
Health in a metro
All you health freaks, AV Healthcare, a health food concept comes calling to the city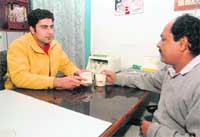 Suburban living, metro lanes, urban lifestyle and believe it or not, health is the biggest casualty. Under the above-mentioned circumstances, it is also the biggest obsession. Here's a piece of news that will interest the ones interested in their health. AV Healthcare, a health food concept, will be available to city residents soon.
Aniket (left) with a client at his office
Side Lanes
The crossroads


Some times we sit with people or meet them at gatherings, without knowing who they are. They are humble and kind, one-of-the-crowd, quite inconspicuous. That is till they start talking. In measured tones they tell us of their life work and ambitions. The babble around does not distract them. Entrances and departures do not break the steady flow of words. Ultimately the listener too is cocooned within that magic circle of words and uninterrupted concentration.
Diamond delight


It's reigning diamonds these days. At least exhibitions are! Now, Pavitra, a jewellery brand in the region has started with special "Diamond Dhamaka" at its outlet in Chandigarh. The four-day event would showcase the display of 3,500 exclusive diamond jewellery designs in rings, earrings, pendants, bangles, necklaces at a price range upto Rs 10 Lakh. "With the wedding and festival season in full bloom we have brought to the people of the city, a wide range of loose diamonds, solitaires. The entire diamond range is fully certified as exclusive pieces of artistry and 18K Hallmarked." says Kunal Goyal, director, Pavitra. The exhibition aims at covering all kinds of jewellery with a wide assortment of diamonds, gold, jadau, precious and semi-precious gemstones, pearl etc. Pavitra is offering work from the cities of Delhi, Jaipur, Mumbai in India and Italy and China from International market. — TNS
Step out in style!


Numero Uno Jeans wear has introduced its 2009 collection of casual footwear in suede, nubuck and full grain oil pull up leathers in trendy colours and styles for men. This range has on offer, both slip ons and lace ups. The range of casual footwear are sleek, versatile and maintenance free. This range is crafted with state-of-the-art technology. Designed keeping comfort in mind, this collection is a balance between style and protection. Numero Uno's functional and easygoing range of leather footwear embodies all facets of quality, fit and design. Hip and trendy, this range is available in stunning colours like tan, camel and shades of brown and black. —TNS
Bird's eyeview









This lone bird atop the brutally pruned tree seems to be asking the question: Where should I nest?
Lifestyle photo: Kamal Kishore