7-yr-old sings his way to hearts in Australia
Amritsar, January 23
Seven-year-old city lad Kartik Abrol has become a singing sensation following a guest singer performance in radio channel 97.7 FM at its 8th annual anniversary musical night titled "Kal Ajj Aur Kal" at Melbourne (Australia) held recently.
Kartik Abrol

Muslim community threatens to return cheque
Amritsar, January 23
Shahi Imam Maulana Habib-ur-Rehman today threatened to return the cheque for Rs 2.50 lakh against the grant promised by BJP MP Navjot Singh Sidhu.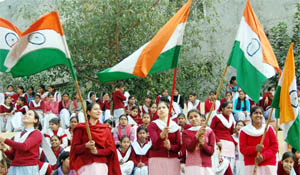 Girls wave Tricolour at the Republic Day rehearsal in Amritsar on Friday. Photo: Vishal Kumar
Holy city fails to get integrated textile park
Amritsar, January 23
The holy city failed to get the integrated textile park under the scheme initiated by the Ministry of Textiles for lack of arranging matching fund.
Campus Buzz
Non-teaching staff threaten agitation
Amritsar, January 23
Raising several demands concerning welfare and promotion of the non-teaching staff working in different departments of the university, the Guru Nanak Dev University Non-Teaching Employees Association held a general body meeting in which a huge number of employees were present. Association leaders criticised the university administration, professors in charge deputed in several departments.
Sandhus' last tryst with Jaisalmer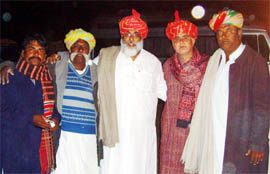 Amritsar, January 23
The cultural ambassador couple, Shivinder Sandhu and Manveen Sandhu, who had left an indelible impact on the social, cultural and educational psyche of this region, had celebrated the silver jubilee of their marriage at Jaisalmer on January 8 and that turned out to be their last journey.

Shivinder Sandhu (centre) is seen with members of the Mangniyar singing community during his visit to Jaisalmer.

NREGA boon for rural belt: DC
Paddy bonus will be cleared soon, he assures farmers
Amritsar, January 23
Several farmers of Dadupura village complained about the non-payment of paddy bonus to deputy commissioner Kahan Singh Pannu who was on a visit to oversee work under the national rural employment guarantee scheme (NREGA).
Chief Khalsa Dewan to open old-age home
Amritsar, January 23
Chief Khalsa Dewan has now decided to open an old-age home adjoining to Central Khalsa Orphanage on Ram Tirath Road side here.
Kairon lays stone of bridge
Tarn Taran, January 23 The Punjab government would provide urban-type facilities in the rural areas, food and supplies minister Adesh Partap Singh Kairon said while addressing a number of gatherings in the Patti area yesterday.
Car, mobiles snatched
Amritsar, January 23
A group of gunmen snatched a white Honda City car (PB-02-5151) from its owner Varun Grover and his friend Naresh at gunpoint near Basant Avenue here late last night.