M A I N N E W S
Bypass on PM today
Vice-President Hamid Ansari will step in to discharge PM's ceremonial role on R-Day
Aditi Tandon
Tribune News Service
New Delhi, January 23
Prime Minister Manmohan Singh was today placed under the care of India's finest cardiothoracic surgeon Dr Ramakanta Panda and would undergo a coronary artery bypass graft surgery at AIIMS tomorrow.
Dr Panda, who has one of the safest records in the world with a mortality rate of less than 0.5 per cent in coronary bypass surgeries, would lead a team of experts, including 11 from Asian Heart Institute and Research Centre, Mumbai, and six from AIIMS, it is learnt.
Panda, the CEO of Asian Heart Institute, is one of the best cardiac surgeons in India and has performed over 6,000 open heart surgeries.
He pioneered the use of arterial conducts for bypass grafting, and performs most surgeries using conduits only — a method far superior and safe to conventional use of vein grafts from leg.


Bypass surgery
involves creating a detour around a blocked artery, usually a coronary artery that supplies blood to the heart but may be done in other areas (peripheral bypass). Bypass may be minimally invasive or open heart surgery. It may also use a heart lung machine or with endoscopic vein harvesting.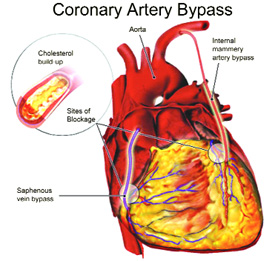 The expert flew into Delhi this afternoon along with colleagues Dr Vijay Desilva (ICU specialist) and Narendra Garach (anaethetist) to attend to Singh, currently admitted to the intensive critical care unit of AIIMS. He is learnt to have brought some 20 boxes of special equipment with him and has held consultations with the PM's personal physician Dr KS Reddy on the line of treatment to be followed.
Meanwhile, Health Minister Anbumani Ramadoss today reviewed the preparations for Singh's operation and said the PM was in safe hands. "Our doctors are competent and we don't need experts from outside," Ramadoss said when asked if foreign doctors had been called.
Doctors attending to Singh also ruled out danger to his life, stressing that there was no medical emergency. They said the decision to operate upon the PM was taken this morning after he complained of uneasiness. The experts had earlier left it to Singh to choose the date of his operation, but reversed the decision today in his "best interest". His coronary angiography had revealed multiple blockages in the arteries.
This would be the PM's second bypass surgery. He underwent the first in the UK in 1990, followed by an angioplasty in 2004.
Earlier during the day, UPA chairperson Sonia Gandhi visited Singh at his residence, where a small puja was also held. The PM left for AIIMS at 1.30 pm. Leader of the Opposition, L.K. Advani, also wished the PM speedy recovery. "We are all worried since we heard about the PM's condition," he said after delivering the Netaji Subhash Chandra Bose Memorial lecture at FICCI this evening.