This Above all
Ghalib: Lost in translation
KHUSHWANT SINGH

During the last days of the British Raj, among the top Hindu families of undivided Punjab were the Mahajans. The doyen was the leading civil lawyer of the Lahore High Court and president of the Bar Association. I am not sure how devout a Hindu he was but he was firm in his belief that unless Hindus were more prolific in breeding, Muslims, who were entitled to take four wives, would out-breed them and become the majority community of India. Neither he nor I could name a Muslim who had more than one wife, but we knew a few Hindus and Sikhs who had two at the same time. However, he remained unshaken in
his belief.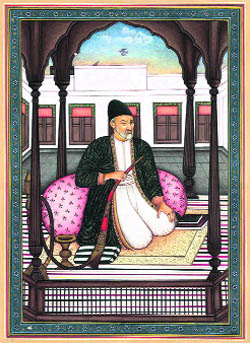 The two Karachi-born authors who have translated 21 ghazals of Mirza Ghalib have failed to do a satisfactory job
He made breeding his dharma — altogether 11offsprings through two wives (one had died), a family enough to make a cricket, hockey or soccer team. Karan Mahajan is one of his descendants. After schooling in Delhi, he went on a scholarship to do his graduation from Stanford University, and is now living in Brooklyn, New York. He has published his first novel. Names have been changed but recognisable to those who know the Mahajans of Lahore. The chief character is reincarnated as Rakesh Ahuja, who has 14 children, one from the first wife, 13 from the second. He loves making love to his very plain-looking second wife. When she is pregnant, a lot of saving is done in sanitary towels because she does not have much time to menstruate. Karan Mahajan calls his novel Family Planning. It has received laudatory notices from American critics and is to be published in England and other European countries. His book is due to be published in India by Rupa.
Like his non-fictional counterparts, Rakesh Ahuja is a very important person — a cabinet minister, living in a large ministerial bungalow, an official car with a red beacon on top, commandos and an army of servants.
He is the favourite of the lady chief minister (close resemblance to Sheila Dikshit), whose feet her ministers wash with rose water and drink like amrit. Ahuja is for ever putting in his resignation and withdrawing it, which assures him dual publicity. He is the chief progenitor of Delhi's many flyovers and is busy completing the latest with a dual highway.
His eldest son from the first wife is loved by his step-mother and all his step-siblings. He is also into jazz rock music and organises a band to play at the inauguration of the flyover. From the loaded title through the shenanigans of our political netas, Karan Mahajan manages to weave a readable tale with sarcasm and wit spiced with a profusion of four-letter obscenities. It is a most promising start. I have no doubt we will hear more about him in the years to come.
An obsession
I crave for the readers' forgiveness for coming back to Ghalib again and again. He has become my old-age obsession. I read some couplets every day, mull over them and try to extract new meanings in those that elude me. He is both a kindred spirit and a role model; he was an iconoclast, hard drinker, womaniser and unmindful of praise or criticism. I would not have written about him again but for the fact that yet another book on his work has been published very recently by India's leading publishing house.
I put aside other work and gobbled up the contents of the book as fast as I could. It gave me acute indigestion. Let me explain why. To start with, I could not understand the sub-title of the book, Epistemologies of Elegance. I looked up the dictionary. Epistemology is the philosophy and theory of knowledge, its method, validity and scope. I was still unable to grasp the meaning.
I turned to the names of the compliers, translators and commentators. Both Karachi-born women, settled in the US — Azra Raza, a practicing oncologist (study and treatment of tumours), lives in New York, and Sara Sulari Goodyear is professor of English at Yale.
I recall giving her a novel, Meatless Days, a favourable write-up. Their mother tongue is Urdu, so I expected that they would have done a better job translating Ghalib than others in the past. I felt very let down. The two authors should have known that the primary object of writing is communication. If your text is beyond the comprehension of readers, it becomes a self-defeating exercise. Their prose is full of verbosity.
They admit that poetry loses much of its verbal music in translation. This applies more to Urdu poetry where great emphasis is put on rhyme, metre and play of words. Nevertheless, translations are a must, provided they are better or more accurate than ones done earlier.
Unfortunately, I do not think their translations of the 21 ghazals are an improvement on past translations. They try to give ghazals a thematic sequence, which they do not have and, hence, are never titled.
And many are way off the mark. Jigar, which recurs many times in Ghalib's poems, is translated as soul. It is not. Ghalib and other poets clearly use dil (heart) as the seat of love and jigar (liver) as the seat of desire, passion or lust.
The book is Ghalib: Epistemologies of Elegance (Penguin-Viking).