COLUMNS

THIS ABOVE ALL
TELEVISTA
GOOD MOTORING
AUDIO SCAN
MUSIC ZONE
WEBSIDE HUMOUR

FOR CHILDREN

CROSSWORD
ROOTS
RHYME TIME
The emergence of Somdev Devvarman has given a boost to Indian tennis and may answer the big question "Who after Leander Paes and Mahesh Bhupathi?", writes M. S. Unnikrishnan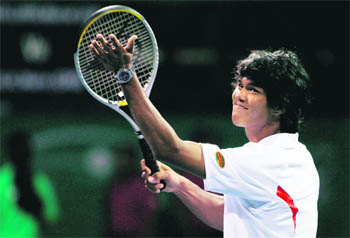 For far too long, Indian tennis has been looking for a dependable player to take the baton from Leander Paes and Mahesh Bhupathi. Though there is no dearth of talent, no one has been able to really measure up to the exacting standards of international tennis. But after an elevating performance in the Chennai Open ATP event, Somdev Devvraman seems to have bridged that gap.


Quality vs Quantity
Braille losing appeal
Braille is becoming unpopular thanks to newer technologies like voice recognition and talking computers that can "read" text. It is even feared that the language could soon become redundant, writes Jeremy Laurence
Why is Braille under threat, and would it really matter if it died out? Why are we asking this question on the 200th birth anniversary of Louis Braille in January, 1809. He was the inventor of the embossed system of type that is now used for reading and writing by blind and partially sighted people all over the world. Texts from almost every known language have been translated into Braille from Albanian to Zulu.
Return of Winnie-the-Pooh
Vicky Shaw
A new Winnie-the-Pooh book will be released later this year, more than 80 years after his first adventure. Egmont Publishing announced that Return to the Hundred Acre Wood will be published on October 5. Generations of readers have wondered what became of Christopher Robin and Winnie-the-Pooh after A. A. Milne's The House At Pooh Corner, the sequel to Winnie-the-Pooh.