Courting HOPE
The emergence of Somdev Devvarman has given a boost to Indian tennis and may answer the big question "Who after Leander Paes and Mahesh Bhupathi?", writes M. S. Unnikrishnan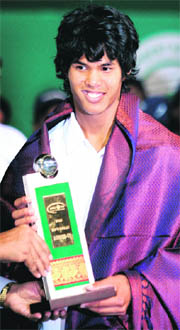 Somdev Devvarman of India holds the runners up trophy after his defeat by Marin Cilic of Croatia in the finals of the Chennai Open ATP tennis tournament in in January Photos AFP
For far too long, Indian tennis has been looking for a dependable player to take the baton from Leander Paes and Mahesh Bhupathi. Though there is no dearth of talent, no one has been able to really measure up to the exacting standards of international tennis. But after an elevating performance in the Chennai Open ATP event, Somdev Devvraman seems to have bridged that gap.
Basically a clay-court player, Somdev has adapted well to hard courts, though grass still seems a suspect surface for him. At least, thatís what fans felt in Delhi during his Davis Cup debut.
Last year, Leander Paes opted for Somdev Devvarman, overlooking the claims of the better-ranked and more experienced Prakash Amritraj, in the opening singles match of the Davis Cup Asia Oceania Group-I tie against Uzbekistan in New Delhi.
Leanderís gamble backfired as Somdev lost the first dayís second singles in straight sets to Denis Istomin 3-6,4-6, 2-6. Rohan Bopanna had beaten Farrukh Dustov to put India one up, but Somdevís defeat got the team in a jam.
Bopanna, who had teamed with Mahesh Bhupathi for the first time in a Davis Cup doubles tie, gave India a 2-1 lead on day two. However, he lost the reverse singles, putting India in serious trouble.
Leander understood the folly of persisting with Somdev in the crucial second reverse singles and opted for Prakash Amritraj instead. Prakash played a stunning game to nail Farrukh Dustov 6-3, 3-6, 6-3, 6-2 to save India the blushes.
Expectedly, Somdev was not considered for the Davis Cup Asia Oceania second round tie against Japan, held again in Delhi, in April 2008.
India swept the tie 4-1, and nobody even cared to remember Somdev Devvarman. Not much was heard of Somdev Devvarman after that. But the young man had been quietly slugging it out to emerge the National Collegiate Association of America (NCAA) champion for the second time. Somdev had been playing in the indoor and outdoor hard-court events in the US to hone his skills, as his clay-court specialisation would not have taken him far on the professional circuit. No wonder, he sizzled against Carlos Moya, the former World No 1 from Spain, and Ivan Karlovic (Croatia), at Chennaiís hard court.
The 23-year-old Ďnobodyí, who gained entry into the main draw as a wild card, had suddenly become Indiaís hottest tennis property. In hindsight, Paes had shown great foresight to opt for Somdev in a vital Davis Cup tie, against popular perception.
It is a sheer coincidence that Somdev Devvarman chose Nungambakkam Stadium as his big stage. Paes and Bhupathi had launched their fruitful Grand Slam doublesí partnership after they won the Chennai Open in 1997. Hopefully for Somdev, too, the Chennai Open win may prove lucky for him on the Grand Slam circuit.
A cool and collected player, Somdev keeps his emotions under check in trying situations on court, and that will be an asset as he tracks the pro circuit.
Somdev was born on February 13, 1985, at Guwahati (Assam). His mother belongs to Meghalaya and his father is from Tripura. He studied at Asan Memorial Senior Secondary School, run by a Malayalam education society in Chennai, from Class II to VIII. His father Devvarman, a senior official with the Income Tax Department, was posted there.
Somdev cut his tennis teeth at the Britannia Amritraj Tennis Academy, which was a new thing for the boy from the North-East, as back home football was a popular sport.
After Class X, he migrated to the US for further studies and also to further his tennis career at the Virginia University. Somdev proved his mettle there by winning NCAA championship twice, to follow in the footsteps of his illustrious predecessors Arthur Ashe, Jimmy Connors and John McEnroe.
Somdev has benefited greatly from the coaching of Andy Roddick. His win in the Chennai Open would provide many opportunities to him now. Heís sure to be back in the Davis Cup squad and the Indian teamís scheme of things, though he still has some way to go before establishing himself on the pro circuit. This was evident when he lost in the second round of the Australian Open qualifiers to Lukasz Kubot of Poland. But his win over his Davis Cup senior Prakash Amritraj in the first round can be called poetic justice.
Somdev has come a long way since he became the national Under-14 champion and also won all events in his age group. The right-handed player, with a dependable forehand, fleet-footed movement, solid ground strokes and safe serves can surely be dubbed as rising star on the horizon of Indian tennis.
Many promising players perish during the transition between the junior and senior ranks. Somdev has, however, proved to be a refreshing exception, though itís too early to predict how his career would shape up. Though he wins over Moya and Karlovic must have given a huge boost to his confidence.
At 23, age is certainly a factor for him as many teenagers are now making a big splash on the Grand Slam circuit. But the Chennai Open experience would definitely stand Somdev in good stead as he not only earned a fat pay check of $37,000 but also accumulated 54 points, taking his ranking from the present 202 to around 152.
Though Somdev became the first Indian to enter the Chennai Open final, bettering Paesí semi-final record in 1998, his progress to the challenge round lacked sting as the fifth seed and World No 33 Rainer Schuettler of Germany did not play in the semi-final due to a wrist injury, giving him a walkover.
"I would have rather sweated my way into the final," Somdev said, instead of taking the easy route.
However, in the finals of the Chennai Open, Somdevís weak points were exposed by 20-year-old Marin Cilic, who won 6-4, 7-6 (3) in under two hours to pocket the top prize of $75,000 as well as 250 points. Cilic attacked Somdevís weak backhand to peg him back, and the Indian player could do little to convert his break points, which included seven in the first set, though he has a very strong return of serve.
Yet, it was a memorable display by Somdev, who got into the pro tour just six months back.
Heís now Indiaís No 1 singles player, pushing Prakash Amritraj and Rohan Bopanna far behind. "He has the ability to make his opponent work extra hard," notes Bhupathi.
Ramanathan Krishnan has advised Somdev to build up his strength "as fitness and strength, the normal weak points of Indians, matter ".
Apart from tennis, Somdev is into music in a big way, and takes his guitar playing very seriously. Coming from the Tripura royal family of the legendary music composer Sachin Dev Burman, music is in his veins. Somdev is a great fan of Carnatic, rock and jazz and Dave Mathews Band.
The emergence of Somdev Devvarman may prove to be a shot in the arm for Indian tennis as he may well be the answer to the big question "Who after Leander Paes and Mahesh Bhupathi?"